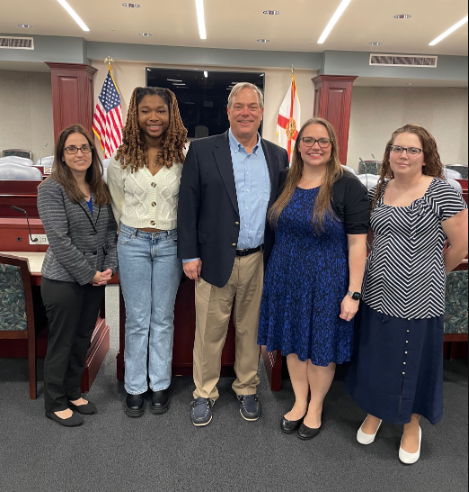 A modified version of a House bill that would make all Florida students eligible for education savings accounts easily won approval today at the second of three required committee stops.
Members of the House Pre-K – 12 Education Appropriations Subcommittee approved a committee substitute for HB 1 by a vote of 11-3, with two Democrats joining the Republicans in support for the legislation. The bill's next stop will be the House Education and Employment Committee. The approval came two days after the Senate Education Committee for Pre-K-12 approved a companion bill, SB 202.
"I'm up on this bill, and I'm not ashamed to support it," said state Rep. Kim Daniels, D-Jacksonville, who said she recently brought a group of 60 middle schoolers who are on state education choice scholarships to the Capitol.
Of those who visited, most live in mobile home parks had never had the opportunity to leave their hometown. She said the scholarship program made it possible for them to have better educational opportunities.
A longtime education choice champion, Daniels said that the scholarships "are working in my district, and we want to keep it working … I'm proud to support this bill because I think it will change the lives of so many young people."
State Rep. Lisa Dunkley, D-Lauderhill, who earlier voted in favor of HB 1 as a member the Choice and Innovation Subcommittee, said she supports the bill but welcomes further conversations on how to improve the bill before it becomes law.
Sponsor Kaylee Tuck, R-Lake Placid, thanked Dunkley and said she welcomes further discussions with fellow lawmakers about how to improve the bill.
"We want to make this something everybody can be proud of," she said. Tuck said when introducing the tweaked bill that it represents an attempt to address concerns stakeholders had raised during committee process.
Many of the provisions in the committee bill that was approved remain the same as the original HB 1. All students would be eligible for education choice scholarships, which would be awarded as education savings accounts, with flexible but restricted spending on pre-approved products and services such as tuition and fees for private schools, tutors, learning devices, and curriculum.
Changes in the committee substitute included a special designation for homeschool families who wished to participate in the scholarship program to differentiate them from those who did not want the money or any regulations that could come with it. Choice navigators, which were required in the original bill, were made optional in the committee bill.
Also, funding for the formerly income-based scholarships would first have to come from private tax credit donations that were previously used to fund the Florida Tax Credit Scholarship program before receiving money from state education funds.
In addition, scholarship funding organizations from outside Florida would be allowed to compete for the ability to administer the program provided they are "in good standing," according to the bill. Step Up For Students, which hosts this blog, administers the bulk of scholarship programs in Florida.
To avoid future waitlists for the Family Empowerment Scholarship for students with Unique Abilities, the committee bill allows for funding growth of 3% annually. Private school officials must have a conversation with parents of these children to clarify what services they provide so that families can make informed choices about the child's education.
A fiscal analysis shows that the legislation would cost the state $209.6 million, with $112.1 million for the increased education options eligibility and $97.5 million for the funding increase for the program serving students with unique abilities.
Tuck said relying on the tax credit fund first to pay for the education options scholarships would help lower the cost to the state.
The meeting drew a parade of people who commented on the bill. Supporters included parents of children who currently receive scholarships. One of them, Raelyn Hardwick, lives in Daniels' district and has received an education choice scholarship since kindergarten.
"My single mother wanted me to attend private schools because she wanted me in a safe, loving environment and to be challenged academically," said Raelyn, now a senior at Bishop Kenny High School in Jacksonville who has been accepted at several colleges and plans to be a developmental psychologist and help inner city youth. "I support HB 1 because I want more students in Florida to have the same opportunity for success as I have."
Casey Hay, who lives in the small Panhandle town of Chipley, homeschools three of her five children with the unique abilities scholarship because a rare blood disorder prevents them from attending a traditional school. The scholarships have allowed her to buy STEM curriculum and tutoring services.
She said her two other sons also must be homeschooled because the family can't risk them becoming ill at school and infecting their siblings.
"It would be a major boost if our other two children could receive a Family Empowerment Scholarship or tax credit scholarship that had the type of flexibility the FES-UA scholarship offers," Hay said.