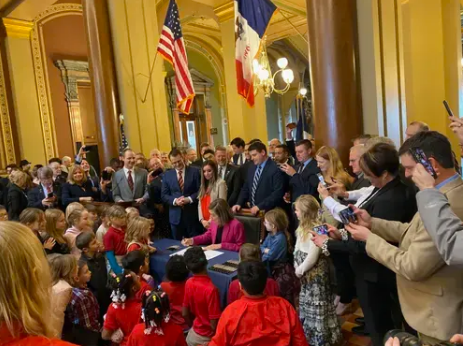 Editor's note: This commentary from Jason Bedrick, a research fellow in the Center for Education Policy at The Heritage Foundation, appeared last week on the foundation's website.
State lawmakers are often slow to act, but they can move quickly when voters make them feel the heat. Consider Iowa, where Gov. Kim Reynolds recently signed the nation's third publicly funded education choice program for all K-12 students, following West Virginia and Arizona.
This represents a stunning reversal. A smaller proposal failed to clear the legislature last year. What changed?
The Students First Act will provide Iowa families education savings accounts that they can use for private school tuition, tutoring, textbooks, curricular materials, and a variety of other education expenses. The ESAs, funded with a portion of the state's per-pupil spending, are worth about $7,600 annually.
That more than covers the average private elementary school tuition in Iowa (about $5,400) and nearly covers the average private high school tuition (about $9,200).
Families can also roll over unused ESA funds from year to year to save for later expenses. Initially, the ESAs will be available to low- and middle-income families; they will open to all Iowa families in the program's third year.
The policy Reynolds signed is significantly more ambitious than her proposal last year, which was limited only to low-income students. That bill cleared the state senate but failed after a lengthy battle in the Iowa House of Representatives. Although the GOP had strong majorities in both chambers, several Republicans representing rural areas raised concerns about the effects that school choice policies might have on their local public schools.
Last spring, Reynolds took the unusual step of endorsing several primary challenges to legislators in her own party who had thwarted her school choice proposal. The governor was betting that she had a better understanding of the GOP base's priorities than the legislators she was challenging—politicians who had already proven their popularity in their districts. If they survived their primary challenges, Reynolds's standing in the party would be significantly diminished.
Rural Republican legislators nationwide have long posed a stumbling block to passing school choice legislation. In rural areas, public schools are often the largest employers, and the local superintendents wield significant political power. Rural legislators therefore tend to heed those superintendents' hostility to expanding school choice.
But in the wake of the COVID-19 school shutdowns, the relationship between parents and their local schools changed. "We wouldn't have passed the ESA bill but for COVID," explained Iowa Sen. Brad Zaun, a long-time proponent of school choice. "Groups like Moms for Liberty were down at the capitol nearly every day clamoring for school choice."
To continue reading, click here.