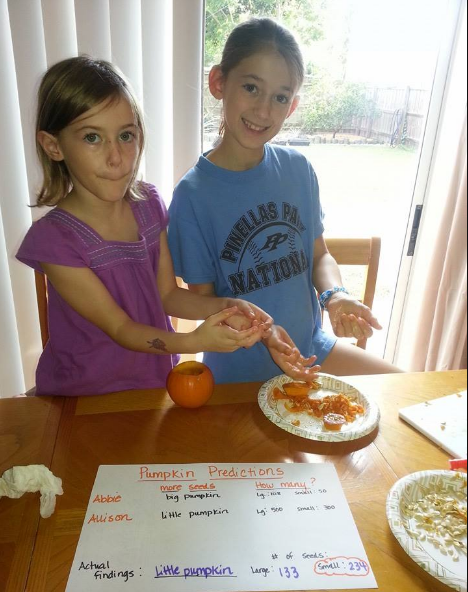 Melissa Ley left her job as a teacher at a public school to let her daughters learn at home after determining the public schools they attended were not the best fit for them. At the time, Ley's family didn't qualify for an education choice scholarship, so she enrolled the girls at a district virtual school.
Things went well until district leaders decided to convert from live lessons to an asynchronous education model – one in which educational activities, discussions and assignments engage students in learning at their own pace, on their own time.
Ley moved her children to Florida Cyber Charter Academy, where she serves on the Florida Cyber Charter Academy board. She has become a fixture at legislative committee meetings and advocates for education choice by writing letters to the editor at the South Florida Sun Sentinel and other newspapers.
Ley shared her story with reimaginED to encourage other education choice advocates looking for the best educational fit for children nationwide. Answers have been edited for clarity and brevity.
Q. Please tell me a little about yourself: What was your own K-12 education like? Did you always want to be a teacher or was it something that you felt called to later, during high school or college?
A. I was born and raised in Florida and attended my zoned schools. I knew in high school I wanted to be a teacher. I worked full time in college and attended college while working. Eventually I decided that since I was already making more as an administrative assistant than I would as a teacher, that I was better off where I was and didn't finish college.
I worked as a corporate recruiter and trainer for years, and after I had my first child, I started re-evaluating what I really wanted to do, so I left my job and went back to school to get my degree in education.
Q. Please tell me a little about your family. Where do your kids attend school?
My husband of 20 years and I have a 19-year-old daughter, Abigail, who graduated from St. Petersburg Collegiate High School (a charter school) in May of last year with her high school diploma and her associates of arts degree. She is attending St. Petersburg College. My younger daughter, Allison, attends St. Petersburg Collegiate STEM High School. It is a brick-and-mortar charter school that will allow her to graduate with her high school diploma, her associate degree, and two industry certifications. Prior to this, she attended a virtual charter school from kindergarten through eighth grade.
Q. How did you know what learning plan was the best fit for them?
 Abigail started in a magnet school and in second grade I started seeing some things that had me questioning whether it was the right fit for her. My daughter started coming home saying she was a terrible reader. She wasn't. She loved to read and was gifted, but when I asked her teacher why she thought Abigail had this impression, and if she noticed her struggling in small group or during class, the only information she could give me was my daughter's district test score. She had no running records, no feedback on how she read in class, or during small group instruction, no assessments at all. Just that she failed this one test on this one day, and from it related to my daughter she might not pass the grade.
As a teacher in the district, I knew what was expected of me and the data and instruction happening in my classroom with my own students, and I felt like it wasn't acceptable that there was no data on my child. She was doing well on her report cards, but when I sat down to do her homework with her, it was obvious that there were some gaps in her learning. I figured it was one year, one teacher. I would work with her to fill in the gaps and it would be okay.
The next year, my younger child was in VPK, reading well above her grade level, and academically excelling, and her teacher suggested she go straight to first grade. But socially, we knew she wasn't ready to skip a grade. I started researching other options for her. Do I work to pay for a Montessori school, or something that was more flexible and able to accommodate all her needs?
Then a few months into that school year, I decided to homeschool them. When looking into homeschool options, I came across a virtual school, and at the time it was through the district. I fell in love with the curriculum and the ability to school my kids at home and be there and see if there was any remediation or acceleration needed.
Q. What was the reaction when you, a public school teacher, put your children into a non-traditional school?
At first, because we started with a district virtual school, most people didn't really say much. A few weren't thrilled that I was "schooling them at home," but some thought it was amazing. However, when the following year our district virtual school wanted to eliminate the curriculum we were using and the live classes and go to an asynchronous model where a classroom teacher would oversee five virtual school students, we chose to leave and move to a virtual charter school.
Q. Have you always supported education choice and scholarships or was it a view that evolved over the years? If so, what influenced that change?
I have always supported choice, but as with most things, until you personally experience them, you don't really understand their value. For us, having the option for a virtual charter school was life changing on so many levels. I had no idea the number of people who fought hard for options for students and families or that choosing where you go to school isn't something that is accessible to everyone.
Living in Florida, we are really privileged with the number of options we have, and I had no idea that this wasn't the case everywhere. As my own choices were being threatened, I got involved in advocating for choice and realized often those making the decisions to close my school or limit enrollment didn't understand even the basics of how our school was run.
For example, I spoke to many school board members who had an opinion on the virtual school we attended, but had no idea we had live classes with teachers and students. They kept saying "you mean video recordings."  I also found out they often didn't know how their decisions impacted those utilizing the school. I also did not realize that those choices are often still threatened and can be taken away.
Q. Please describe your role at Florida Cyber Charter Academy.
I am a board member for Florida Cyber Charter Academy. It is my job to make sure the staff is meeting the needs of the students and families and making sure they are adhering to their charter contract, as well as making sure they uphold all federal, state, and local laws and regulations.
Q. What has inspired your activism when it comes to education choice? Did you start with newspaper letters to the editor or were you engaged in other advocacy as well?
I was asked to be on the board as a parent liaison by one of my daughter's teachers since I was a very active parent in the school. When I joined the board, I realized that the district was trying to eliminate our charter, and this would leave thousands of kids without the choice that was working best for them, my kids included.
At that time, I started working with the board and the district to try to educate them on how our school really worked and the impact it was having on these families. I served as board chair for a few years, and currently serve as a board member. Then I got involved by writing letters, visiting and speaking with our state and national legislators. I also work closely with other parents to help them learn how to advocate.
Q. What do you think of the education choice expansions in Florida? What about other states, particularly those that have adopted greater spending flexibility in the form of education savings accounts?
Florida has always been a leader in school choice, but with nearly half of Florida's students utilizing an educational option outside of their zoned brick-and-mortar public school, the Legislature must continue to expand learning options and not roll back options for families. I think we should look to states like Arizona, which has adopted universal ESAs, and to Colorado, which has tons of effective online learning options.
Q. Do you think ESAs would benefit Florida and if so, how?
I do think ESAs will benefit Florida. Many families simply lack the financial resources to pursue other options. Private or homeschooling options are expensive. Other families like ours have made financial sacrifices to shoulder the expense of private school tuition or have given up a parent's income to school at home. If the money follows the student, this opens more options for families and helps alleviate the financial strain on families.
Q. What do you see as the future of education?
I think the future of education can be exciting if we work together to provide options and support to teachers, students and families. The more educated we are as a society about education options, laws, and funding, the stronger we can make opportunities for our children.