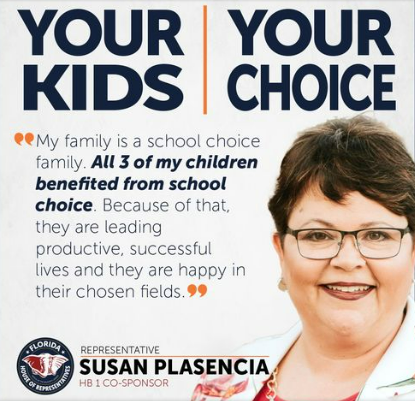 Editor's note:  In addition to being a co-sponsor of HB 1, which would offer all Florida families access to education savings accounts, state Rep. Susan Plasencia is also an education choice scholarship mom. On Jan. 26, the freshman Republican from Orlando shared her story at the House Choice and Innovation Subcommittee, which voted 14-3 to support the bill. Plasencia is not a subcommittee member and so did not vote. However, as a co-sponsor, she was allowed to give the closing speech on the bill. You can watch the entire subcommittee hearing here.
"I'm here today to speak with you about my family and my experience. I'm the mother of three grown children. In the early 2000s is when they attended the public school system; they were in the elementary school, and I was supportive; I was a classroom mom, and I helped the teachers and the administrators, and there were lots of well-intended, great teachers that helped.
But somewhere along the line, it was decided that my middle son would attend special education classes. And I didn't like this path for my son. This is not what I knew. I knew that he could achieve so much more; I just knew it. So, I pulled my children out of school — all three of them.
Thanks to the (Florida Tax Credit Scholarship) program, I was able to put my children into a great private school, one that I could otherwise not afford. So, this was a complete game changer for my family. And it was wonderful for my children.
At some point in that process, as the time that went on, we did transfer schools; I homeschooled as well.
Now fast forward to when they're in high school. My daughter wanted to experience traditional high school, and I knew that she would excel in the public school system. So, my daughter is a graduate of Colonial High School, and she later went on to (the University of Central Florida).
My youngest son, well, he remained in the private school system, and he graduated via the GED program. And he studied diesel mechanics. Today, he's 25 years old, and he wakes up every single day loving what he does for a living.
And that middle son, my boy, the one who took me on this journey that we all went on together, well, the child that was, or should have been in special education courses, and given the way things go, probably would have had a certificate of completion, that child graduated near top of his class at his private school. And he went on to UCF to study computer engineering.
And the reason I tell you my story today is because every child learns differently, and parents understand the needs of their children. Members, with this I close, and I ask for your support on this bill."