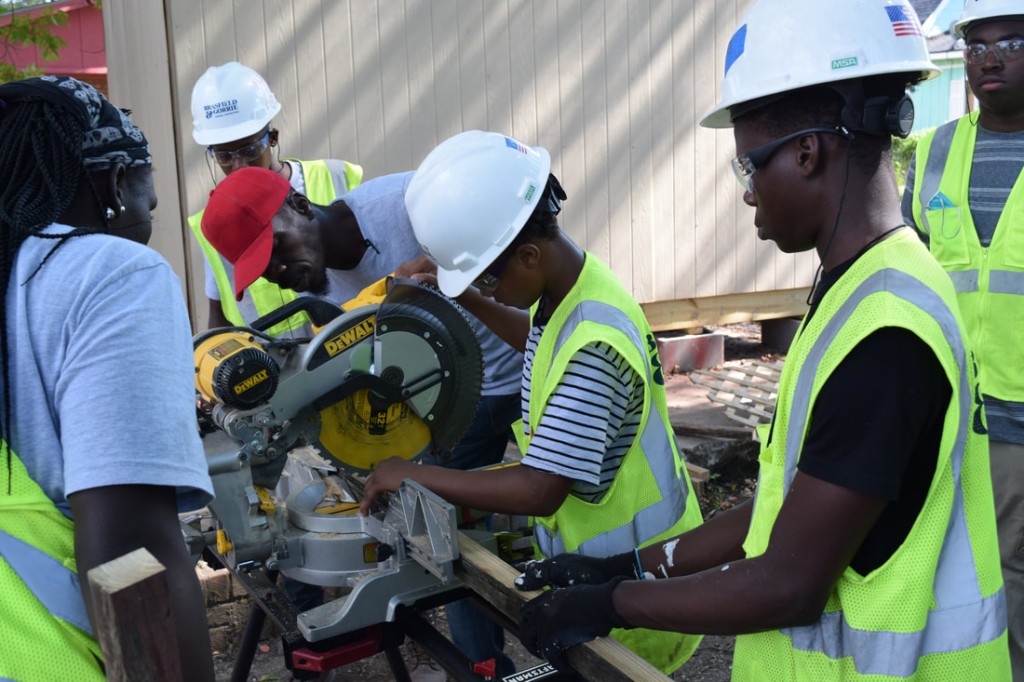 A little more than three years ago, Keemarius Thomas was a rudderless middle-schooler stuck in a hardscrabble Birmingham public school. Whatever his aspirations, his prospects seemed limited by history — his own, and his ancestors' — and his ZIP code.
"I had no idea back in my other school what I was going to do, or how I was going to get there," Keemarius says.
Once more, Alabama's entrenched and uneven allocation of academic resources, combined with its cumbersome school choice program, threatened to squash yet another young Black man's modest dreams of a superior future.
Now a dual-enrolled high school senior and community college freshman, Thomas dares to dream large.
No. Better still, Thomas dares to plan large. An associate's degree, then a degree from the four-year university up Interstate 20 — Georgia Tech — and a future in high-tech security.
What happened?
Build Urban Prosperity Community School is what happened. Popularly known as Build UP or BUCS, this private, nonprofit school unlike any other, eking out an existence in a community all too sadly familiar, not only changed Keemarius' direction, it's investing him with the in-demand workforce skills necessary to be the master of his course, the captain of his destination.
The rudder-dispensing enterprise is the brainchild of Huntsville-born Mark Martin, a member of the University of Alabama Class of 2003 (Finance) who went on to become equal parts evangelist and revolutionary. (With a name inspired by a Gospel writer and legendary reformers of the status quo from two eras, how could he be otherwise?)
Build UP, while borrowing from western European models that prize academics in partnership with private business, is an entirely fresh reimagining of the traditional trade school.
A veteran of Teach for America, Martin's introduction to classroom instruction was at Atlanta's Woodson Elementary, in "Georgia's most heavily incarcerated ZIP code," he says. The experience was a lesson in environmental destiny: Enter the world where impoverished parents were poorly educated, "then your destiny is pretty much defined for you," Martin says. "We don't believe that's right."
Build UP was founded in the fall of 2018 in Birmingham's Ensley, a once-thriving industrial community that sank into poverty and ruin when the nearby steel mill shut down. This is how cool Ensley once was: Made into a song, Tuxedo Junction — a two-block entertainment area hard by the turnaround point for streetcars — became a No. 1 hit arranged by Glenn Miller at the height of the Big Band Era. At Build UP, the beat goes on, shattering generational chains of doom.
"We're a workforce development high school, preparing students for careers in the trades," says James Sutton, Build UP's executive director and — significantly — an instructor of African-American Studies at the University of Alabama-Birmingham. "However, we place a strong emphasis on giving students a quality education, particularly in math and reading."
Yes, like most vocational-technical academies, Build UP students are trained in the construction arts. The first key difference: Students experience the practical relationships between classical education subjects and the building trades.
From framing windows to hanging drywall to fitting crown moulding to respecting load-bearing beams, there's geometry, mathematics, and physics everywhere you look in a cozy three-bedroom, two bath bungalow.
There's science, too, in electrical wiring and plumbing, and lessons in the life sciences to be derived from conquering mold, evicting vermin, or landscaping a yard.
Remember Sutton's background? The Build UP faculty also finds ways to weave history, effective language skills, and art into the curriculum.
More pragmatism, Build UP style: Students earn paychecks for their efforts, which helps instill the virtues of budgeting and appreciating the value of work and compensation.
"Students are receiving both mentorship and guidance while also developing skills along the way," Martin says. "They also get paid, so they are learning financial literacy and budgeting at an earlier age. It exposes them to all kinds of responsibilities."
For those who go the distance — six years in the program, emerging with an associate's degree and certifications across a variety of construction trades — graduates receive the keys to a house (with a zero-interest mortgage) they helped renovate in the Birmingham communities of Ensley and Titusville.
Among the first to score homeownership: Build UP veteran Torrey Washington, who acquired a tidy, restored 1930s brick Tudor Revival on a sweeping corner lot in Ensley, nearly 1,900 square feet under roof in which he, his mom, and four siblings ramble about.
"Build UP has done so much for me, and it has changed my life," Washington said during the ribbon-cutting ceremony. "I would tell other young people that Build UP is worth it. I have no regrets. I'm happy, my family is happy, I'm about to be a homeowner and make a difference in my community."
Martin likes to talk about how successful Build UP students will achieve equity that they can get their hands on: equity that comes from owning something that, historically, increases in value. How's that working out for Torrey Washington? A recent check of Zillow shows the residence has increased in value by $13,300 in just 17 months, early evidence that the Build UP model works.
"Build UP exists to empower youth, families and communities to lift themselves out of poverty and lead self-sufficient lives," Sutton says. "By equipping students to acquire a self-directed career-focused education, gain knowledge and experience in a high demand field of their choosing, they also become homeowners that build wealth and support neighborhood revitalization."
The school/enterprise comes by its houses in a variety of ways, purchasing included. But there are tax breaks for owners who donate houses to Build UP, including those who otherwise would pay to have old homes razed and hauled away.
Instead, some 20 "perfectly good homes that shouldn't land in a landfill" — Martin's description — have been shipped from upscale Over the Mountain suburbs (Homewood, Mountain Brook, Vestavia Hills, and Hoover southeast of downtown Birmingham) to Build UP lots in Ensley and Titusville, where they become laboratories of hands-on learning.
Summer jobs are available through Build UP, as well as paid internships with the school's partners. Here's where we reconnect with Keemarius Thomas, only recently turned 18, and the extremely impressed Kyle Baker, CEO of Birmingham-based security and telecom provider Sophia Consulting and Integration.
Keemarius hired on part-time during the spring semester of 2022 to perform labor-intensive tasks, such as hauling cable for installers, which he did without complaint.
"He was humorous, always in good spirits," Baker says. "He was just a really, really good fit, the perfect example of the type of person we want to reach. In our business, there are all these things you can get into — sales, systems engineering, project management, networking — things you can top without a certification or a degree."
That experience turned into a paid internship last summer, then an every-Friday gig beginning in January. Baker says he could see the lad's lights go on whenever he was assigned to an IT networking specialist.
"I think a lot of the students they've targeted," Baker says, "have been the most negatively impacted on the long-term effects of these systems and structures that were in place and the education that they have access to.
"I do love that they are very specific about … just providing a wider perspective of what learning and education is, and what a career looks like? And what providing for yourself and for your family can look like. I love that."
Not that Keemarius dismisses the construction skills he's learned. As intense fan of power drills and circular saws, he knows the pride of seeing, at the literal end of any work day, how the skills he's gained at Build UP can make the world a better place.
"I'll always have that knowledge," Keemarius says, "just that general knowledge to help fix up a house, even your own house. Or you can really help someone else. And if all of a sudden you need a job, you can have a job, because you know how to do all those things. That is my stuff."
Build UP's progress has not been without its setbacks: Six vehicles used to transport students to school and job sites were stolen from a fenced and locked enclosure during 2021. Early in 2022, trackers installed by Baker's team on two vans swiped over Christmas led Martin and Jefferson County sheriff's deputies to four of the trucks and vans in a western Birmingham junkyard, stripped.
Repairs and towing fees would run into precious thousands, Martin predicted, but rather than respond in anger, he told local reporters, "With Build UP, we are conveying skills to our young people so they don't have to stoop to this level. I just hope whoever is doing this can get back on their feet and get some skills and start contributing instead of taking."
Otherwise, Build UP's primary ongoing difficulty is helping applicants clear the financial hurdle. Alabama's school choice program puts strict limitations on students seeking a private-school option. Pending developments in the state Legislature favored by school-choice advocate Gov. Kay Ivey, this year, Alabama offers two modest options:
Alabama's Education Scholarship Program, funded by taxpayers who donate to nonprofit scholarship-granting organizations (who receive tax credits), is restricted to students from families qualifying for the federal free and reduced-price lunch program. Scholarships for students in grades 9-12 can go as high as $10,000. Students assigned to failing schools receive top priority for scholarships.
Under the Accountability Act of 2013 Parent-Taxpayer Refundable Tax Credits, parents who transfer children enrolled or assigned to failing schools receive a tax credit worth the lesser of (1) 80 percent of the average annual state cost of attendance for a K–12 public school student during the applicable tax year, or (2) their children's actual cost of attending school.
However, those projected credits cannot be borrowed against, loaned by the school, or assigned to the alternate school the student attends. Small wonder the number of students attending on Alabama's tax-credit scholarship scheme has never reached even 200, and slipped to 56 in 2021.
This would explain why leaders of groundbreaking Alabama schools such as those at Build UP are rooting for legislative changes pioneered in Arizona and Iowa and, most likely soon, Florida, in which education funding follows students, not institutions.
Help from state lawmakers cannot come too soon. Build UP has set March 2, from 4:30-6:30 p.m., for its open house for prospective students and curious parents.
Take it from Keemarius, who doesn't actively recruit, necessarily, but, when asked about Build UP, says this: "If you're in a public school, and you know, if you want a better experience in terms of opportunities, Build UP would be the place you should go."