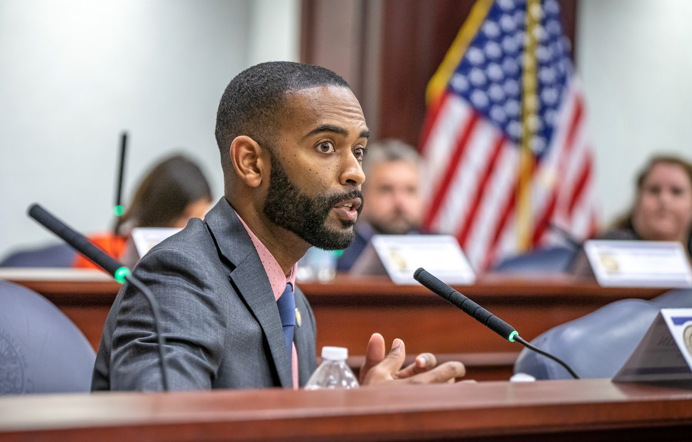 Historic legislation that would expand education choice in Florida got a big boost Wednesday as two committees approved House and Senate versions of bills that would allow every K-12 student in the state to be eligible for education savings accounts.
Members of the Senate Appropriations Committee on Education voted 9-4, with Republicans in support, to approve SB 202, which would convert all traditional scholarships to flexible spending accounts called education savings accounts. Known as ESAs, they give each student an amount commensurate with the per-student amount appropriated for students attending a public school.
Parents can then spend the money for approved uses such as private tuition and fees, part-time tutoring, curriculum and learning devices such as laptops.
In addition to the increased eligibility for previously income-based scholarships, the bill also would increase funding for ESA-based scholarship programs for students with unique abilities, a program that now has a waitlist of more than 9,000.
SB 202 also includes some sweeteners for public schools, such as cutting regulatory red tape and allowing districts to transport students in vehicles other than school buses. The public school provisions won it an endorsement from the Florida Association of District School Superintendents.
The bill was tweaked to separate homeschoolers who don't choose to accept the scholarships for fear of government control. Those who do accept the money would be required to take a nationally norm-reference test and consult with "navigators," though the navigators can't force them to follow their guidance.
"Homeschoolers who don't want the scholarship will have life as it is," said Sen. Corey Simon, the Tallahassee Republican sponsoring SB 202. "We do want the accountability for those who are taking those taxpayer dollars."
An amendment filed by Sen. Shevrin Jones, D – Miami Gardens, which won unanimous approval, would require private schools that accept scholarship money to reimburse the state if they close during the middle of a school year and would prohibit their owners and directors from opening new schools if the money has not been repaid.
The bill now moves on to the Senate Appropriations Committee for a vote before heading the Senate floor.
"What we're trying to do is lift up what's going on in our schools," Simon said, addressing critics who accused lawmakers of trying to de-fund public schools. "We're trying to raise the bar in our education. We're not going to fund a system; we're going to fund a child.
Simon also brought up "the opposite side of this conversation," in which families who pay private tuition still must pay school taxes.
"What we're doing is saying to parents, we're giving you a choice, what to do with your child, what situation fits your child best. We owe it to that student going forward to fund that child. Our students can't wait for us to figure it out when we have an opportunity for them now."
While House fiscal analysts put the cost of the program at $210 million, the Senate staff has yet to release an estimate.
"We're still waiting on the numbers from the EDR (Florida Office of Economic and Demographic Research)," Simon said.
Those speaking in support of the SB 202 included alumni of education choice scholarship programs, including Ny'Reon Shuman, whose life was changed after the grandmother who ended up raising him was able to send him to Catholic school on a choice scholarship. Now a student at Florida State College in Jacksonville, he described himself as "the product of parents who were drug addicts."
"Imagine a toddler crawling on the floor eating cigarette butts," he said. "That child was me."
On the House side, an amended committee substitute for HB 1 won bi-partisan support, with Democrats Kim Daniels of Jacksonville and Gallop Franklin II of Tallahassee joining the 14 Republicans in voting for the bill. (Rep. Karen Gonzalez Pittman, R-Tampa, was absent.)
Rep. Susan Vades, D-Tampa, whose proposed amendment adds language from SB 202 that would loosen regulations on public schools, explained that she was voting no Wednesday because House rules require her amendment to be considered at the House Education Quality Subcommittee meeting, which is set for Friday.
Valdes promised that once the amendment is approved, she will support the bill on the House floor.
"You have my word," she said.
Among the amendments that did receive approval Wednesday was one filed by Rep. Patricia Williams, a Fort Lauderdale Democrat and the committee's ranking minority leader. It requires that first priority be given to families making less than 185% of the federal poverty line, or $51,337 for a family of four.
The next priority would go to families whose incomes fall between 185% and 400% of the federal poverty line, which translates to a maximum of $111,000 for a family of four.
Like the Senate version, the House bill includes the same new classification and oversight requirements for homeschool families who accept scholarships.
During the debate, several House members shared personal stories about their educational experiences.
Rep. Randy Fine, who last year described the bullying he endured from classmates at a public school, on Wednesday recalled how an algebra teacher flunked him on a test because Fine, who is Jewish, stayed home with his family to observe Yom Kippur.
Fine said he had to stay in the public school because his parents couldn't afford private school.
Franklin, the Tallahassee Democrat, shared a story of how homeschooling likely helped him escape the school-to-prison pipeline.
"I embody school choice and I would not be who I am today without those options," he said. "I completely support public schools, but I don't believe every shoe fits all feet, and I would be in jail today if not for my mother making the sacrifice to save my life."
Franklin added that before state scholarship programs were enacted, only wealthy people had a choice, "but now that we're prioritizing this bill to ensure that we can focus on low middle class and middle class working families to have that option, I believe it will help with student success."