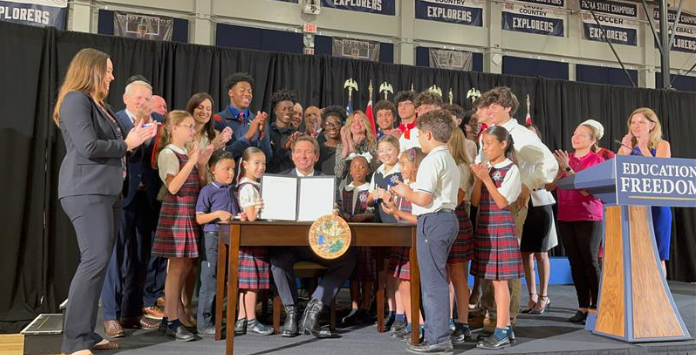 Editor's note: Florida Gov. Ron DeSantis on Monday signed into law House Bill 1, sponsored in the Senate by Sen. Corey Simon (R-Tallahassee). HB 1 contains a comprehensive package of innovations that promote parental involvement and customized K-12 education in Florida, empowering parents to guide their children's education by providing for an education savings account. The bill also takes a first step toward reducing onerous and excessive regulations on public schools. Here is what education choice advocates had to say in the aftermath of the bill signing.
You can watch video coverage of Monday's historic bill signing here.
Sen. Corey Simon (R-Tallahassee), Chair of the Senate Committee on Education Pre-K-12
This legislation is a transformational opportunity to make it clear that the money follows the child, and parents have a right to guide their child's education as they see fit. We recognize that parents are a child's first and best teachers. A street address or level of income should never replace the vital and irreplaceable role of a parent to decide what academic experience best fits the needs of their child.
This bill is about access and opportunity for all students and every family in our state. I am thankful and blessed that my mother worked so hard and made many sacrifices to make certain I had the opportunity to attend a good school. Not all students are so lucky, but that changes today, and it changes because here in the free state of Florida, with the visionary leadership of Gov. DeSantis, we are going to stop funding systems and start funding students.
Kathleen Passidomo, Florida Senate President
The goal of making school choice a reality for every child across our great state has been a long time coming, and with the steadfast resolve and leadership of Gov. DeSantis, Speaker Renner, Sen. Simon, Rep. Tuck, and many others, today is the day school choice is here for every Florida family.
Additionally, this bill reduces some of the outdated, unnecessary, and quite frankly, burdensome regulations public schools have to abide by. By reducing red tape that burdens our traditional public schools, these institutions, which have served our communities for generations, will have a meaningful chance to compete right alongside other school choice options.
House Speaker Paul Renner
We don't want your child to go to a school where their values are mocked.
Mark Wilson, president, Florida Chamber of Commerce
With only 53 percent of Florida third graders reading at or above grade level, it is clear Florida families and students need support and flexibility, and this bill empowers them to have tailored educational experiences rather than the current one-size fits all approach.
Skylar Zander, state director, Americans for Prosperity
Today marks the beginning of meaningful education choice for parents across the state, which will result in even brighter futures for Florida's children. By signing this transformative legislation, Gov. DeSantis has dramatically boosted the opportunity for every child in the state to receive an education carefully tailored to their individual needs.
Under this new law, all Florida children will receive a quality education that reflects their unique abilities, paving the way to an even more prosperous future for all. Thanks to the tireless efforts of House Speaker Paul Renner, Senate President Kathleen Passidomo, and bill sponsors Rep. Kaylee Tuck and Sen. Corey Simon, Florida's parents will have the freedom to choose an education that fits the individual needs of their children.
Michael Sheedy, executive director, Florida Conference of Catholic Bishops
Catholic schools look forward to working with the Florida Department of Education and scholarship funding organizations to implement the provisions of this historic law that will transform K-12 education in Florida. This marks he accomplishment of a long-standing goal of so many stakeholders to bring educational choice to every family in Florida.
Maury Litwack, Teach Coalition founder and managing director of public affairs at the Orthodox Union
The historic achievement of universal scholarships in Florida is just the beginning. Teach Coalition and our partners are working in several states to bring about transformational programs. Florida is paving the way and our activists are eager to take this momentum and truly make education affordable for all students.
Robert Enlow, president, EdChoice
Importantly, Florida lawmakers show that even states with existing school choice programs in operation shouldn't rest until those opportunities are available for all.
Former Florida Gov. Jeb Bush
Historic day in the #SunshineState! Thank you @GovRonDeSantis, @Paul_Renner, @Kathleen4SWFL for making Florida the #1 state for educational freedom. #HB1 gives families and students unprecedented choice, transforms education.
Patricia Levesque, CEO, Foundation for Excellence in Education and executive director, ExcelinEd in Action
Florida is the nation's leader for #schoolchoice. Thank you @GovRonDeSantis, @Paul_Renner, @Kathleen4SWFL for ensuring ALL families and students have opportunity, regardless of income, zip code. #HB1.