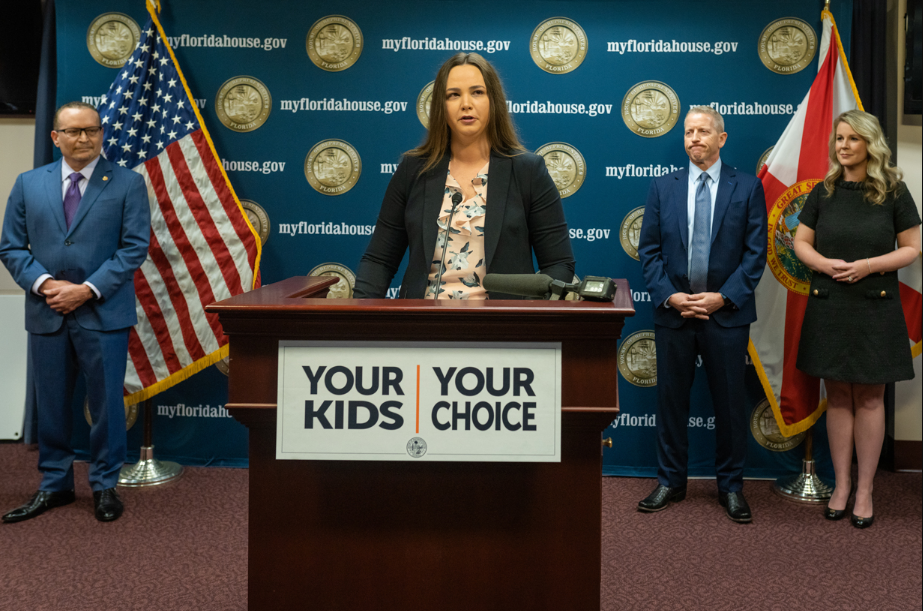 Editor's note: This article appeared today on newsserviceflorida.com.
The Florida House is on the cusp of passing a massive expansion of school-voucher programs that would make every student eligible to receive taxpayer-backed scholarships, while the full Senate is poised to consider its version of the bill.
A disagreement, however, has continued to simmer about the costs of the proposals, with House and Senate estimates differing by hundreds of millions of dollars.
The House took up its version of the bill (HB 1) on Thursday and positioned it for a likely vote on Friday. The Senate version (SB 202) cleared its final committee Thursday and is ready to go to the full Senate.
Under both proposals, families would be eligible to receive vouchers if "the student is a resident of this state and is eligible to enroll in kindergarten through grade 12 in a public school in this state." Current voucher programs include income-eligibility requirements.
The bills would make another significant change by allowing families of home-schooled students to receive voucher funds. Families could spend the money on a range of purchases beyond private-school tuition, including instructional materials, fees for certain exams and tutoring services. The proposals would create what are commonly known as "education savings accounts" in Florida.
A House staff analysis estimated the expansion would cost about $209.6 million, while a Senate analysis released this week estimated a price tag of roughly $646 million.
The wide disparity drew questions from Democrats during debate on the House floor.
"How could there be a $400 million discrepancy between two chambers analyzing the same bill?" asked Rep. Robin Bartleman, D-Weston.
House bill sponsor Kaylee Tuck, R-Lake Placid, attributed the difference to the Senate estimate taking into account money from the state's Florida Tax Credit Scholarship program, which provides tax breaks to companies that make contributions to fund vouchers. The House does not include that pot of money in its estimate.
"My understanding is that they (the Senate) are including the FTC (Florida Tax Credit) dollars in that count as well," Tuck replied.
To continue reading, click here.