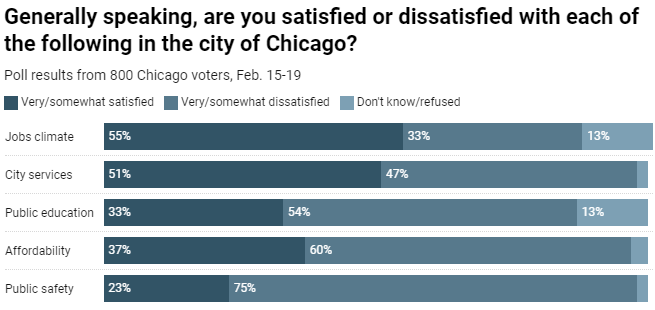 Editor's note: This article appeared Monday on thecentersquare.com.
Two out of every three voters are dissatisfied with Chicago's public education system, and some 62% of them support school choice, a new Illinois Policy Institute poll finds.
Conducted by Echelon Insights over a four-day period commencing on Feb. 15, the poll of 800 voters further highlights that a majority of voters would prefer a system where students are able to attend a school they feel is "right for their learning needs," even if it means venturing outside the Chicago Public School system.
In addition to strongly expressing support for school choice, the poll showed that 54% of Chicagoans disapprove of the current public education system. More recently, Illinois Policy Institute reports revealed that nearly 80% of Chicago's 11th grade students could not read or perform math at grade level in 2022, and nearly half of all CPS students were chronically absent.
Still, researchers found that many Chicagoans remain optimistic about policy solutions that could improve outcomes for students, chief among them the Invest in Kids tax credit scholarship program that currently helps more than 9,000 low-income and working-class families apply for grants to non-public schools each year.
The program is proving to mean such a major difference in the lives of many students, even Gov. J.B. Pritzker has recently changed his tune about the program, telling Policy Institute back in October that "with assurance from the advocates for Invest in Kids that they will support increased public-school funding, my budgets have ultimately included the relatively small Invest in Kids Scholarship Program."
To continue reading, click here.