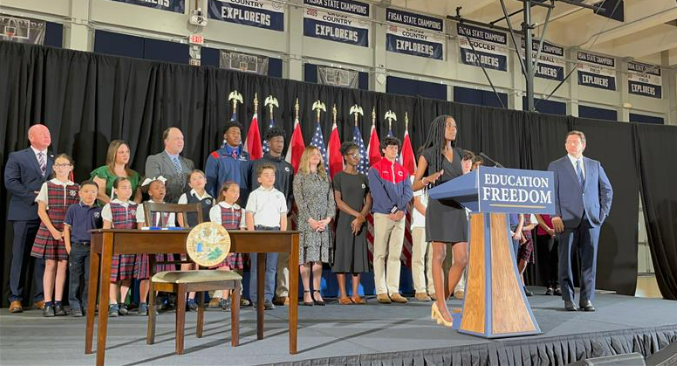 Editor's note: The signing of HB 1 to expand education choice on Monday is expected to empower many more Florida families to find the best educational fit for their students and even create customized plans to help them thrive. At the signing ceremony for this historic legislation, the crowed heard from a former student and two parents who benefited from education choice since it began in more than 20 years ago in the Sunshine State. Here are excerpts from their remarks. You can watch the entire bill signing ceremony here.
Hera Varmah, Florida Tax Credit Scholarship recipient, now a team member at American Federation for Children
As one of 12 children in my family, I know that students learn in different ways and have different needs. That's why nine of us benefited from the Florida Tax Credit Scholarship, including myself. My parents immigrated from Jamaica and Liberia, and growing up we were very poor. But they would stop at nothing to give us the best education possible. They also believed a school's values must align with theirs. The tax credit scholarship allowed them to send us to schools that gave us the best opportunity to learn and grow and succeed. So far, we have four college graduates, including one who is a chemical engineer, one who is a mechanical engineer, one who is going to medical school and myself working for the American Federation for Children seeking to give every child in America access to a quality education. We also have four more in college, and 4 currently in high school.
When people say school choice doesn't work, I simply show them my family. This is the power of giving a child an education that fits their needs.
That's why this new law expanding the Tax Credit and Family Empowerment scholarship programs is so important to Florida's families. Turning them into education savings accounts gives parents more flexibility in spending their funds, which provides them more options to customize their children's education to meet their individual needs.
Aimée Uriarte Dobles, Miami, scholarship mom of two teenage sons who attend Christopher Columbus High School, site of the signing ceremony
Florida's choice scholarship programs have been lifesavers for my two sons. I am a single mother originally from Costa Rica, raising two boys. I moved back here three years ago in large part because of the opportunities Columbus provides.
Columbus is more than a school, it's like a family. If it's true that it takes a village to raise a child, they are my village. They have helped us through many challenges and the emotional ups and downs. We would not have had these opportunities in a different school.
Education choice scholarships have been a blessing to my family. That's why I would like to thank Gov. DeSantis for signing this bill passed by the Legislature that gives families more options to meet their children's education needs. Governor, you have this mother's eternal gratitude for ensuring my boys have a promising future because of Columbus High School.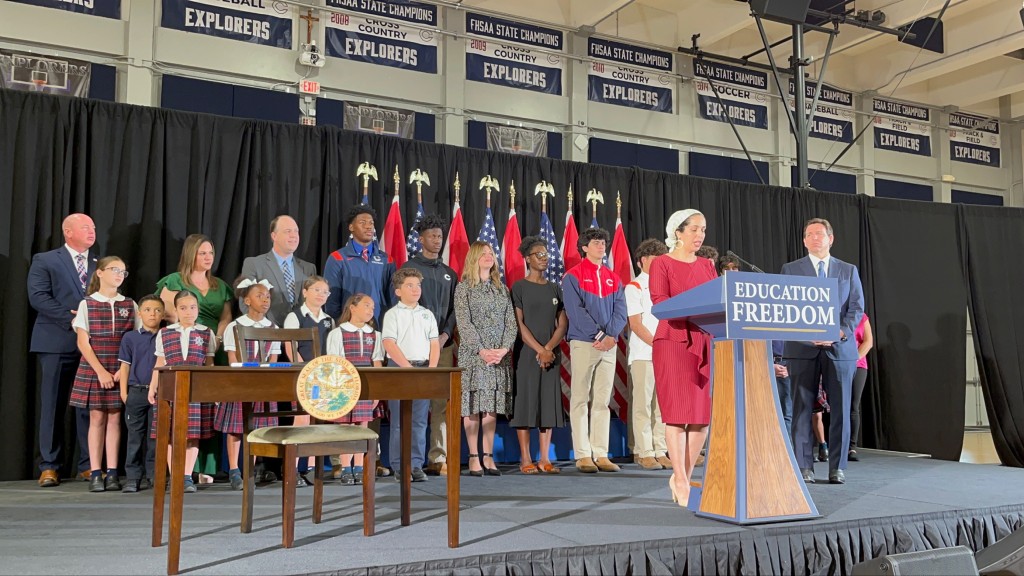 Rachel Hayon-Sabbah, Fort Lauderdale mother of four, including two daughters with unique abilities
As grateful as I am that we received (unique abilities scholarship) funding to pay for my daughter's private school education this year, I am more grateful to have the opportunity to homeschool her next year by using that funding to structure a curriculum that cultivates (her)  curiosity and love of learning by focusing on her strengths and makes learning fun.
Her 4-year-old sister has an expressive speech delay that qualified her for the scholarship, but she was previously waitlisted because of her age. Thankfully, she became eligible for funding this year, and it has enabled us to get her the therapies she needs, relieving our family of a financial hardship.
This legislation will cause the Unique Abilities waitlist to vanish and allow nearly 10,000 special needs families to get the funding they need. And families in the Tax Credit and Education Options scholarships will now have the ability to spend their program funds in ways that they can better tailor their children's education to fit their individual needs.
Thank you, Gov. DeSantis, and legislative leaders, for making this dream come true.