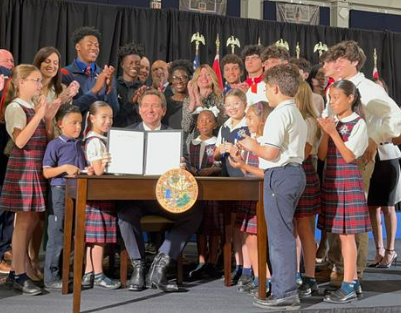 Editor's note: This article appeared Monday on floridadaily.com.
With the signing of a universal school choice bill last week, Gov. Ron DeSantis and the state are receiving praise from school choice advocacy groups.
"This legislation is nothing short of transformational," said Danny Aqua, executive director of Teach Florida. "Every student in Florida will soon have the opportunity to experience an education that works for them thanks to Gov. Ron DeSantis."
In a legislative session loaded with major policy proposals, one focal point has been a school choice proposal that would expand eligibility for scholarships to all K-12 students in Florida.
DeSantis signed the bill into law last week, which creates one of the largest expansions of school choice in the country. The legislation was also a top priority of Florida House Speaker Paul Renner, R-Palm Coast.
"The state of Florida is number one when it comes to education freedom and education choice," said DeSantis at the bill signing. "Today's bill signing cements us in that number one position. We'll be signing legislation that represents the largest expansion of education choice, not only in the history of this state, but in the history of these United States."
Under the new law, education funding will directly benefit families in the form of Education Savings Accounts that will provide opportunities for Florida students to attend a school of their choice. The money will be used as parents see fit to further their children's education, such as for public, private, charter, or magnet schools, whether online, in-person, or a hybrid of the two.
Critics of the proposal argue that this legislation will divert resources away from public schools and toward private schools. However, supporters of the legislation assert that funding will now follow the student.
To continue reading, click here.