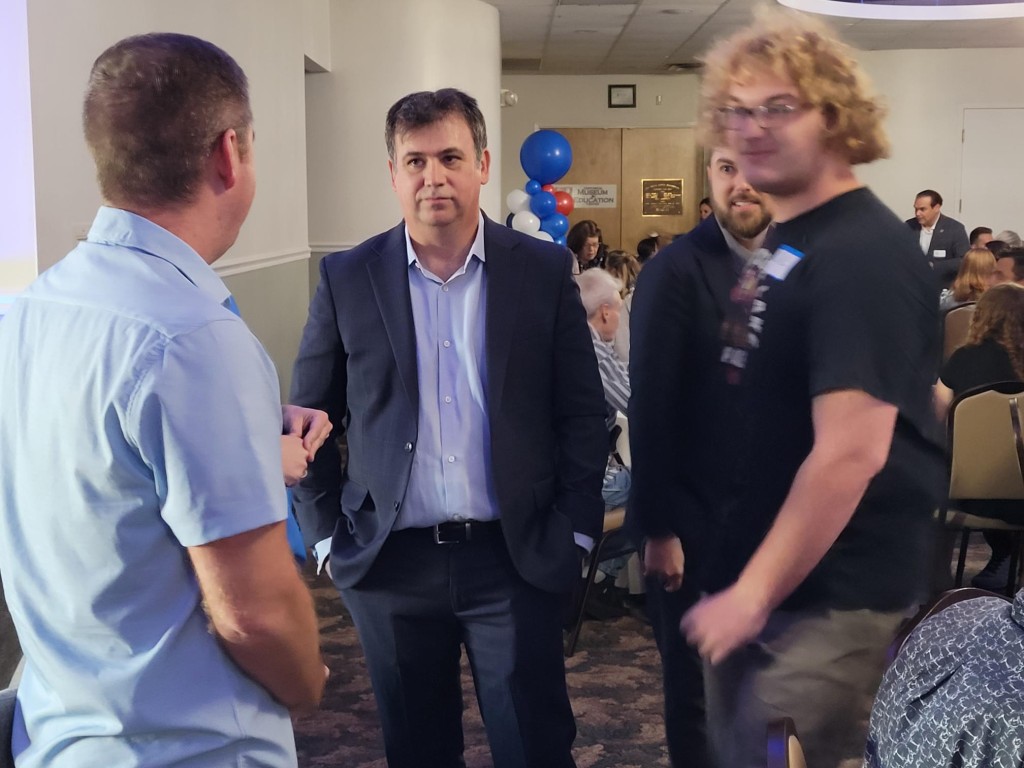 ODESSA, Florida —With the puck about an hour from dropping at a Tampa Bay Lightning playoff game, John Legg didn't want to risk alienating his fellow hockey fans. He promised to talk fast and get everyone home on time so they could watch the game.
As the Bolts prepared to face a hostile crowd at the Toronto Maple Leafs' Scotiabank Arena, the founder of Pasco County's oldest charter school and a former state lawmaker found himself on home ice last week, surrounded by his most loyal fans, as he dropped the puck on his 2024 campaign for Pasco County superintendent of schools.
Unlike the Lightning, whose ultimate goal is to take home the Stanley Cup, Legg isn't looking to take home a trophy.
"Our purpose is not to get me elected, because if the purpose is to get a person or a politician elected, we have failed," Legg said. "Our purpose is to help the kids in Pasco County. It is to ensure that the baton is passed, and every child, no matter where they come from, no matter their income level, no matter what happens to them, they have an opportunity to succeed."
Despite the display of humility, Legg is entering the race with a long list of wingers that include virtually all of the county's – and some of the state's – most powerful officials.
Three of five Pasco County School Board members, plus a former board member, showed up to the campaign kick-off. The board chairwoman, a former student and teacher at Dayspring Academy, the school Legg founded with his wife, Suzanne, gave the opening speech.
Other VIPs attending included the county sheriff, three county commissioners, the president of one of Florida's state colleges, the public defender, the clerk of the circuit court, and the county tax collector, who once wielded tremendous power in Tallahassee as a House majority leader and Senate president pro tem.
(Legg, also, was a House speaker pro tem and chaired education committees in both chambers of the state legislature. You can see a complete political bio here. Additionally, he is a member of the governance board for Step Up For Students, which hosts this blog.)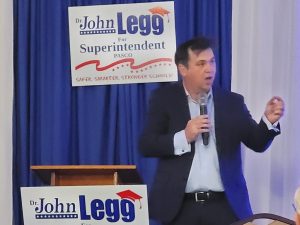 Though Legg didn't delve deeply into policy at the event – this crowd already gets it – he and other speakers praised the principles behind education choice and parental empowerment.
"Dr. Legg is a champion for children and their families, the board chair, Megan Harding, said. "He has worked so hard to move the needle to ensure that all children receive the world-class education that they deserve."
During his speech, Legg recalled his humble origins as a child growing up in Hudson, a community on Pasco County's northwest coast, where the per capita income in 2022 was $30,567. In 2020, the school board closed the neighborhood elementary school after it received only one grade above a D in nine years.
Legg said his childhood experience drives his passion to extend opportunity to all children regardless of income.
"The idea of higher education and economic opportunity really wasn't in our family's background because we were low income," said Legg, who holds a doctorate in education. "Kids like us didn't go to higher education. Kids like us didn't get post-secondary training. We didn't even know what post-secondary training meant."
Legg began his higher education journey at Pasco-Hernando State College, a two-year community institution at the time. A crusty volunteer tutor named Charles Whitehead helped him pass basic algebra. Whitehead and others, Legg said, inspired him to want to pay it forward.
In 2000, Legg, working as a legislative aide at the state Capitol, founded Dayspring. The school, less than 5 miles from struggling Hudson Elementary, serves students in pre-kindergarten through 12th grade across five campuses.
Dayspring has consistently earned an A rating from the state and maintains a waitlist of about 1,400 students, 43% of whom are classified as economically disadvantaged. Legg said allowing students to leave schools that are failing or simply not the best fit creates opportunities for everyone to have a chance to achieve success in life.
"Every child, every person, belongs to the parent and not the school system. Not the bureaucracy," he said to audience applause. "Parents have a critical role in their child's education and should be empowered to make choices."
While that statement may seem bold to those who live in other places, it doesn't break new ground in Pasco, which has a track record for expanding choice within the district and partnering with charter schools, including Dayspring, to accommodate the county's rapid growth.
Last month, Magnet Schools of America selected current Pasco Superintendent Kurt Browning as its Superintendent of the Year. The school district has opened 26 new magnet schools and programs with topics and fields of study based on community need and student interest. Options have expanded to include fine arts, career and technical programs, early college, and computer science pathways.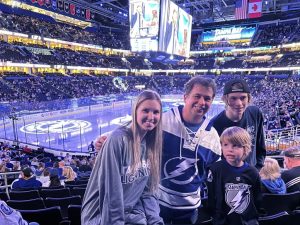 Browning, whose announcement last summer that he would not seek a fourth term as superintendent prompted Legg to file his candidate paperwork the next day, consolidated all types of choice programs, which had previously operated separately, under a single district department.
"If we're going to compete, then we've got to provide what moms and dads are looking for," Browning told the Tampa Bay Times in 2015.
If elected, Legg would be the first person with a charter school background to take the helm of the county school district, the largest in the nation that still elects its superintendent. But he would not be the first charter school founder to take on a leading role governing public school districts.
John King Jr., who served as U.S. Secretary of Education under President Barack Obama, founded Roxbury Prep, a top charter middle school in Massachusetts, and later led Uncommon Schools, a network of nationally recognized charters. In 2011, the National Alliance for Public Charter Schools inducted King into the Charter School Hall of Fame. Last year, he became the 15th chancellor of State University of New York.
Even if Legg loses, education choice will be the winner in Pasco.
Chris Dunning, a longtime principal in the district, now leads Wendell Krinn Technical High School and is running as a no-party candidate. Krinn, the district's first technical magnet high school, opened in 2018 and provides opportunities for students in 14 career areas including biomed, cybersecurity, pre-engineering, HVAC, and welding.
Dunning, who, like Legg, has a doctorate in education, has devoted a section of his campaign website to school choice and wants to add specialty programs across the district so that transportation to non-zoned schools is not an obstacle to those seeking access.
Regular school board attendee Michelle Mandarin, who calls herself "a Mama Bear fighting for better education" on her campaign website, also is running for the top seat. She has positioned herself as an education choice advocate, championing the need for more parental control in education decisions.
No Democrat has entered the race in Pasco, once a swing county that has since turned ruby red and where most local races are decided in GOP primaries. The last Democrat to hold countywide office was tax collector Mike Olson, who died less than a year after winning re-election and beginning his 33rd year in office.
Election day is 18 months away, a lifetime in politics. But if money is a predictor, Legg, who has $148,675 in his campaign fund compared with Dunning's $6,320 and Mandarin's $0, appears set to score on a power play.
Winning a third elected office, the superintendency, would give Legg the hat trick of his political career.