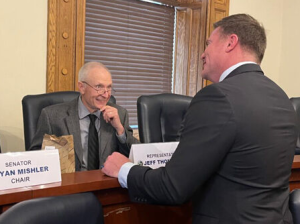 Editor's note: This article appeared Friday on Indiana's wrtv.com.
Republican legislators pushed through a new state budget plan early Friday that greatly expands eligibility for Indiana's private school voucher program after they added money for traditional schools amid complaints over small funding increases they were set to receive.
This year's legislative session came to an end with the budget vote that drew criticism of the GOP school funding plan from public schools groups and Democrats, who claimed it short-changed traditional public schools with funding increases less than the inflation rate.
The school voucher expansion in the initial budget deal announced Wednesday by Republican leaders was set to consume more than $500 million of the nearly $1.2 billion increase planned for general K-12 funding over the next two years. The revised plan added about $300 million to boost the total increase to about $1.5 billion.
House members voted 70-27 and senators voted 39-10, largely along party lines, in favor of the budget as the Republican-dominated Legislature adjourned this year's session around 2:30 a.m.
Longtime education lobbyist Dennis Costerison said school district leaders began contacting lawmakers with concerns after school funding projections released Wednesday showed that nearly 75% of the state's school districts would receive funding increases of less than 2% in the budget's second year.
"With schools, and everybody else from the governor to the General Assembly, wanting to get more money for teacher salaries, where's that money going to come from?" said Costerison, executive director of the Indiana Association of School Business Officials.
The GOP budget agreement announced Wednesday boosted total base K-12 school funding by 6% in the first year and 2% the second year. But traditional school districts would only see projected average increases of 3.5% and 1.1% after more than $500 million was diverted to pay for a 75% increase in the number of students receiving the state vouchers toward paying private school tuition.
Thursday's revisions pushed the funding boost for public school districts to 5.4% in the budget's first year and 1.3% in the second year, according to projections from the nonpartisan Legislative Services Agency.
To continue reading, click here.