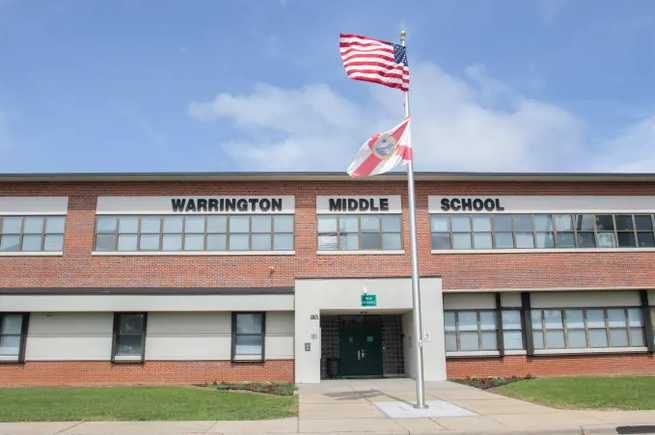 With the clock ticking on a state-imposed 48-hour deadline and the threat of withheld salaries hanging over their heads, Escambia County School Board members on Tuesday approved a contract with a charter school operator to take over a struggling middle school.
Board members voted 4 to 1 in favor of the contract, which allows Charter Schools USA to assume operations in the upcoming school year at Warrington Middle School, which has never received a state grade higher than a D for the past decade.
Board members who voted in favor of the measure were clear they did so reluctantly.
"I really hurt today," board member Patty Hightower said. "We have never equivocated on the fact that we have never been successful at Warrington Middle School. But it's not because of the people who work there. The people have given their blood, sweat and tears to work with these students. It's not because they didn't try. It's not because they are incompetent."
However, she added, "Charter schools are public schools. Some of the things they are asking for in this agreement are normal charter school requests. I'm willing to give Charter Schools USA a chance, and so I will be voting to support the agreement."
The other three board members who voted with her said they thought they had no choice given the state's ultimatum and that it was better than closing the school and busing all the students to other middle schools.
"This is the best thing at the moment for the students in the Warrington zone," board member Bill Slayton said. "We've been given 48 hours; that's why I'm saying let's give it to them. We have tried for 10 years or longer."
The Escambia County School Board vote followed a contentious conference call earlier in the day of the state Board of Education, in which members leveled harsh criticism at the Escambia County district leadership. State board members voted unanimously in favor of Florida Commissioner of Education Manny Diaz Jr.'s recommendations, which were the following if the district failed to sign an agreement with Charter Schools USA within 48 hours.
Report the school district to the Florida Legislature for failing to comply with state law.
Withhold funding to the district equal to the salaries of the superintendent and school board members.
Require the district to provide the state Department of Education with daily progress reports on its negotiations with Charter Schools USA.
"You've been failing the children of Warrington Middle School for the past decade," Diaz told Escambia School Superintendent Tim Smith and School Board Chairman Paul Fetsko, who represented the district on the call.
Diaz said he found the district's recalcitrance in correcting the situation "shocking" that district had yet to reach an agreement with Charter Schools USA, which it chose last year to take over  Warrington Middle School. "This is not a new issue."
State board Vice Chairman Ryan Petty accused the school district leaders of being "incompetent and completely disingenuous" in their handling of the matter.
"It's been well over a year, and while I understand there were critical issues during the negotiations, you have had over a year to get these things resolved, and you come in here telling us just now that in the last couple of days you've been unable to resolve this," Petty said.
Smith said the district board held an emergency meeting Friday but did not receive any response from Charter Schools USA about its counteroffer until later in the day. He said there had been some confusion as to whether Warrington students would be guaranteed seats at the charter school. Charter Schools USA said in its counteroffer on May 5 that 200 students from the Warrington zone in sixth through eighth grades would be guaranteed seats when the charter opened this year.
School officials had said throughout the negotiation process that their biggest concern was that students living in the Warrington zone would have a neighborhood middle school.
Warrington Middle first entered the state's turnaround process in 2012 under a district-managed plan. However, when test scores did not improve, the state gave the district until 2020-21 for Warrington to reach a state grade of at least a C. During that year, the state allowed schools to forgo reporting test scores because of the COVID-19 pandemic.
When the district did report scores in 2021-22, Warrington Middle remained at a D. The state board then ordered the district turn it over to a charter company by May 1. You can see a complete history and update of its turnaround plan here.
District officials began negotiating in November with Charter Schools USA, which serves 75,000 students in five states. The 26-year-old charter school operator was the only organization to express interest in taking over the Title 1 school, where 80% to 90% of its approximately 600 students live below the federal poverty line.
The parties appeared to be headed toward a May 1 deadline to forge an agreement. However, negotiations hit a snag when district leaders said at an April 13 school board meeting that Charter Schools USA had sent a list of conditions for it to make a long-term commitment to the school. Those included the charter company becoming a K-12 charter with open enrollment by 2026-27.
Other points of conflict had been the charter company's request for 100% of the district's 1.5 mil local taxes for capital projects and the district's request that the charter school pay the district a 5% administrative fee; the charter company said they should not have to pay the fee.
On Tuesday night, Fetsko expressed his feelings about Diaz, the state Board of Education and Charter School USA.
"I have great disdain for the business practices of Charter Schools USA," he said. "The commissioner showed himself to be a very unreasonable man. State board members showed themselves to be nothing but a bunch of magpies reporting what they've been told to say. At one time I had great respect for the Department of Education. That has changed."
Though Fetsko said he would vote for the contract, he said the district should find a way to way to "make sure this never happens again."
"Build a system of K-8 or something to cause our students to stay with us, to not choice into a charter and not leave what's going on and show we can educate our own and we don't need somebody being pushed upon us."
Shortly after the vote to approve the contract with Charter Schools USA, the school board voted 3-2 to fire the superintendent, citing resignations, staff shortages, and a lack of communication regarding the contract with Charter Schools USA.  Smith's contract ends May 31. The board appointed an assistant superintendent as interim.