National Charter Schools Week is upon on us, which is an excellent time to review the differences between awesome and less than awesome charter school sectors.
Charter schools have an intrinsic value in providing new opportunities and in creating competitive effects, but geographically inclusive charter sectors might have the additional benefit by encouraging district open enrollment. Suburban charter schools may be force multipliers because they can create a powerful incentive for suburban districts to participate in open enrollment. Private choice can do the same.
After one suburban district participates in open enrollment, it increases the incentives for others to do the same. Before you know it, all districts may participate.
We can use the Stanford Educational Opportunity Project to visualize this, which allows us to select only charter schools by state (all the figures below). The project displays a variety of metrics, but we are using academic growth, which is broadly recognized as the best measure of school quality; each dot is a school, dots below the central "leaned 1 grade level per year" have below average growth.
The green dots have above-average growth. Furthermore, by pressing another button, all the charts below will be showing charter schools located in suburbs.
Why only suburbs? One of the main ways charter schools can help state K-12 sectors in your author's mad-scientist mind is when charter schools to help states to avoid this: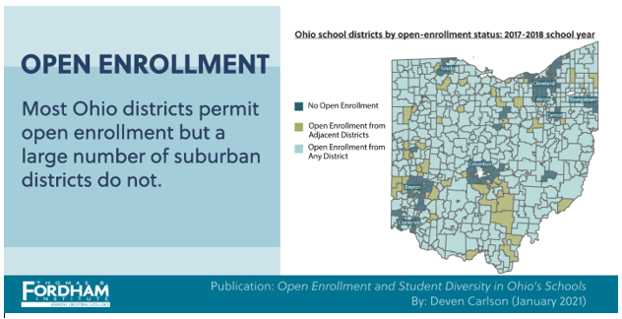 This is a school district map of Ohio showing every urban district in the state either completely surrounded or else mostly surrounded by districts that do not participate in open enrollment. Why do Ohio districts avoid open enrollment? Well because they can:
If you squint, you can find one charter schools to the right of the 40% Free and Reduced Lunch line. Fancy Ohio school districts, in other words, were almost perfectly safe from charter school competition. Ohio charter schools did almost nothing to get them to participate in open enrollment, which is why Ohio lawmakers removed geographic restrictions on charter schools and passed new private choice programs a couple of sessions ago.
Next up would be a state that is more of a work in progress: Texas. Texas has no statewide policy on open enrollment, and it really has yet to take off. If Texas had more charter schools in the suburban areas, it might get an open-enrollment virtuous cycle going, especially if Texas lawmakers would also pass private school choice.
Needs more work, and private school choice would help, but further along than Ohio toward getting a geographically and economically inclusive sector of the sort that will encourage open-enrollment to flourish.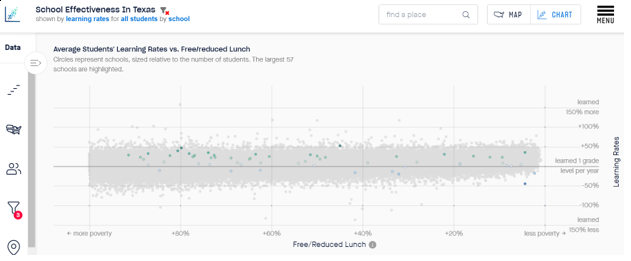 Texas suburban charters are delightfully green from a performance standpoint, but not yet numerous enough to put a chill in the spine of Plano ISD. Let's call it "getting there."
 Here is one of the larger state charter sectors for a charter law passed since the year 2000: Tennessee.
There are some very high growth charter schools in Tennessee, which is great, but they have zero suburban charter schools, which is not great. If you are looking for a charter sector that leaves suburban districts as walled-off fortresses, alas, Tennessee has a how-to manual charter statute. Tennessee has out-Ohioed pre-reform Ohio itself.
Ironically, California can show Tennessee how to do it:
California is the nation's largest state with the largest K-12 population. I'm uncertain as to whether the California suburban charter school sector was large enough to encourage an open-enrollment revolution, but they were certainly trying.
The California suburban charter sector is large and green. Unfortunately, it is also politically hamstrung and contained. While there is no prospect for private choice programs in California, lots of Californians seem to be yomping their K-12 on their own-definitely something to keep an eye on.
Open enrollment may have begun to stir to life in Indiana, but it isn't getting much help from the charter sector: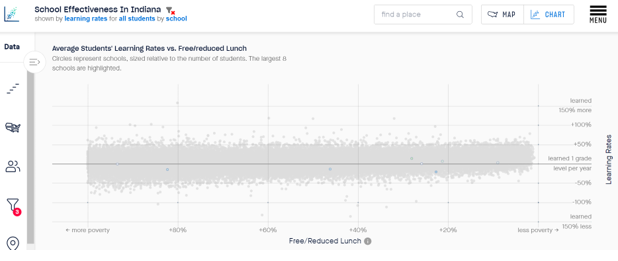 Luckily, Indiana has a robust private choice system which lawmakers just made stronger.
Arizona lawmakers passed both charter school and statewide open enrollment legislation in 1994 and the first scholarship tax credit program in 1997. Lawmakers expanded the tax credit in several different ways before passing the first Education Savings Account program in 2011, which was made universal in 2022.
Arizona has the nation's largest charter school sector at 22% of public-school students, and the suburban charter school sector looks like: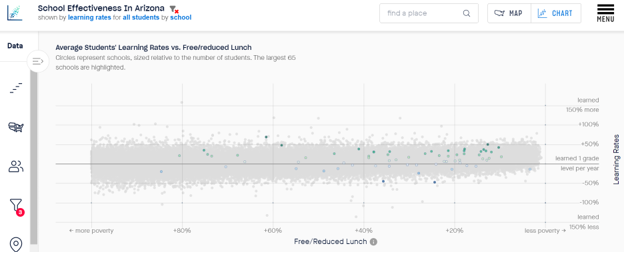 Arizona doesn't have the size of the California suburban charter sector, but it is a much smaller state, which may be why my (very) homemade equivalent to the Fordham open enrollment map for Arizona looks like:
Which might have something to do with: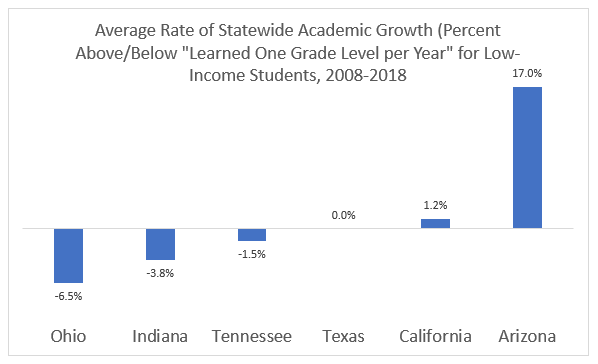 It's best to turn the choice knob all the way to "11."