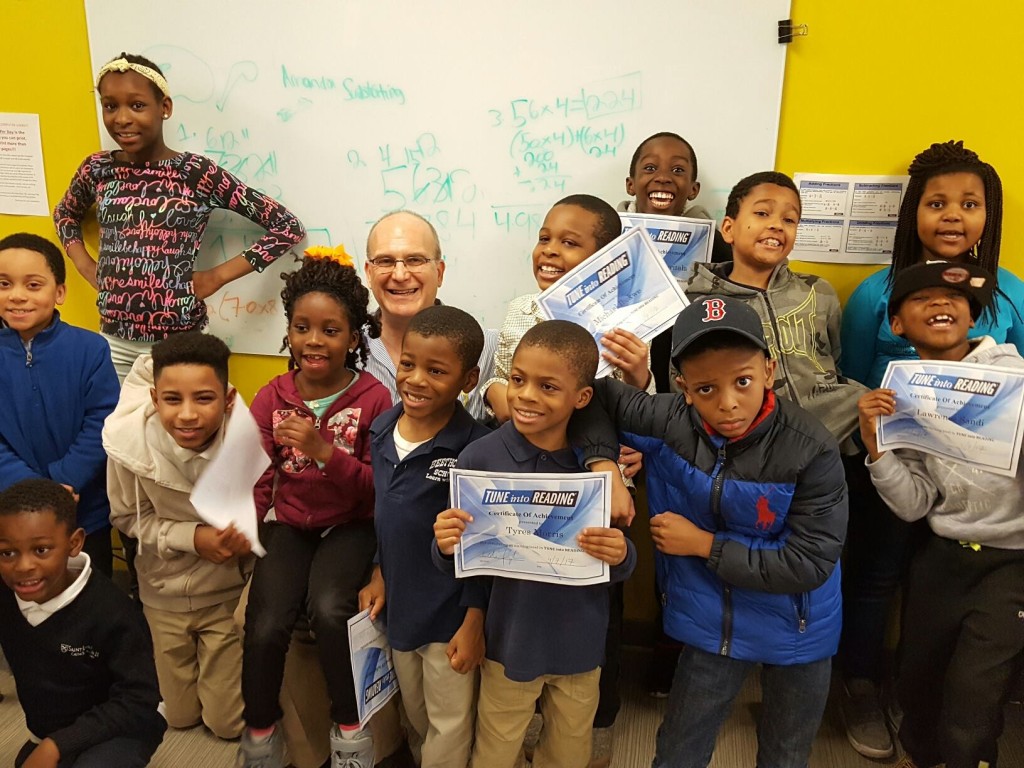 Since he was a school-aged kid, Carlo Franzblau sang off key, even though he played the piano and a mean guitar.
"In theater, they always told me to paint the sets, but they didn't want me to open my mouth," said Franzblau, who had to abandon his childhood fantasy of becoming a rock star.
Many people probably would not consider a bad singing voice a blessing. But an inability to carry a tune created an opportunity for the Tampa businessman to become an inventor and a vocal supporter of early literacy.
Franzblau is the founder of TUNE into READING, a software program that uses singing to help struggling readers. Thirty public schools in Pinellas and Hillsborough counties use the program to help students who are reading below grade level. It also recently became an approved provider for Florida's New Worlds Reading Scholarship Account program.
The New Worlds education savings account program offers $500 to each eligible public school student in kindergarten through fifth grade who reads below grade level. Families may spend their money on pre-approved part-time tutors, curriculum, instructional materials and after-school or summer programs that focus on boosting reading skills.
Step Up For Students, which hosts this blog, administrates the program for the state.
When Franzblau became a dad, he left behind his dreams of becoming a rock star, but he wanted to sing his children off to sweet dreams with lullabies.
Please don't, his wife begged.
"She said It could cause them brain damage," Franzblau joked.
So, in 2003, the Harvard University graduate and co-owner of a family catalog business developed software to help train himself and customers to maintain proper pitch. He sold some programs online, though not enough to make a business out of it. He called it Carry-a-Tune and later changed the name to SingingCoach. Users accessed it on a disk.
"I was going to shut the whole thing down when we heard it was helping kids who were struggling with reading," he said.
One of the first stories Franzblau heard was how his program helped a middle school student. To this day, Franzblau still remembers her name: Ashley Jackson.
Jackson was so behind that she was in intensive remedial reading. The class held exercises in which students sat in a circle and took turns reading aloud to the group, which can be embarrassing for struggling students.
After a time, Ashley's teacher noticed that her student not only read out loud willingly when asked, but she even started to volunteer.
"She was doing it with more ease and more fluency and some clear indications of comprehension," Franzblau recalls.
The teacher called the student's mother to find out what Ashley might be doing at home to contribute to her success.
"The only thing the mom could say to explain the improvement was that Ashley was doing this singing program for fun'' Franzblau said. The teacher told Ashley's mother to encourage her daughter to continue using the program.
Ashley's results and a few other success stories piqued Franzblau's interest in converting the program to help students with reading. However, he first wanted evidence that the improvements were the result of his program and not simply coincidence before taking it to market.
His brother-in-law, a fundraiser at the University of South Florida, connected him with Susan Homan, an education professor and an expert in emergent literacy and struggling adolescent readers. Homan, who received more than $700,000 to conduct research studies on TUNE into READING, found that middle school students' reading skills jumped by an entire grade level after nine weeks of use compared with a control group, whose reading levels remained unchanged.
An expanded follow-up study in 2005 showed that the program, for which Franzblau now holds three U.S. patents, enhanced reading in elementary, middle and high school levels.
"These findings strongly support the use of interactive singing software that provides real-time pitch-tracking to increase reading levels and fluency for struggling readers at the elementary, middle, and high school levels," the study said.
Studies at other institutions produced similar findings.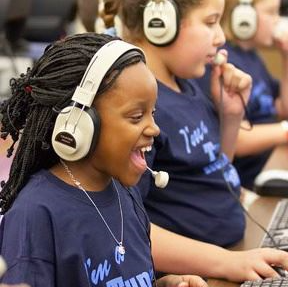 Here's how the program works. Students first listen three times to a vocalist sing a song while they silently read the lyrics. Then they see vocabulary words used in the song and pictures that illustrate the words while a narrator offers a definition of the word and uses it in a sentence.
After that, students sing the words to the tune five times without the help of a singer. They get a gold star for each time they perform it correctly. Finally, they take a quiz. The program also allows students to track their progress.
Franzblau said the program includes 200 songs, with about 70 more soon to be added. Tunes are mainly in the public domain to keep costs low. A subscription for a private pay customer is $100 per month after a free 30-day trial.
In 2019, Franzblau and his wife, Beth, established a nonprofit foundation called SOAR, short for Sing Out And READ, to make the program more accessible to low-income families through community partnerships and private donations.
At Dunbar Elementary Magnet School in Tampa, teacher Victoria Klug used TUNE into READING at a 12-week summer program. Some students had been held back a year in school due to low reading skills. The program boosted their reading grade level by at least a year in just three months.
"It's wonderful," Klug told 83 Degrees Media. "It's life changing."
It also has been life changing for Franzblau, who sold the family catalog business in 2018. He now focuses solely on improving literacy for young readers through TUNE into READING and SOAR, and as an approved provider for Florida's New Worlds Reading Scholarship Account program, which is soon expected to expand to help students struggling with math. As a result of recent legislation, the name would also change to New Worlds Scholarship Accounts. Gov. Ron DeSantis has until May 31 to act on HB 7039.
As to whether the music program that started it all has improved Franzblau's dreadful singing, he said it has.
"I can match pitch better, meaning I can sing along with other people and stay in tune if they are singing in my vocal range," he said.
Though he will never be the rock musician he dreamed of as a child. Franzblau has become a rock star for reading, which suits him fine.
"It's become my passion project," he said.