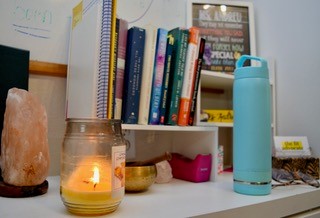 Lexa Duno became an educational entrepreneur before educational entrepreneurialism was cool, or even a thing. In 2015, as a fifth-grade teacher in a Tampa private school, Duno thought she was where she belonged. It certainly was the place for which her education and training had prepared her.
Even so, she felt a pioneer's tug, imagining somewhere, somehow, there was a better fit for her skills and temperament. A bilingual literature expert with a degree in creative writing and a passion for poetry, Duno ached for a professional world where she could support students who struggling with literacy or who were challenged by learning disabilities by using evidence-based interventions based solidly in the science of reading.
When coronavirus pandemic came, changing everything, it was not necessarily for the worse. For Duno, it was a time for confronting the hunger that threatened to devour her sense of purpose. In September 2020, she leapt, leaving her job and its regular paycheck to start a home-based literacy tutoring business as — ta da! — The Lit Advocate.
As a teacher, Duno was reborn. Nowadays, her enterprising teaching life is headquartered in a cozy classroom carved from a garage at her blended family's home on a shady street in Dade City, Florida. Some students she meets in person; others she instructs via internet video. Some of her students benefit from state education choice scholarships managed by Step Up for Students, which hosts this blog.
Duno also worked last year at nearby Cox Elementary School, where she served as a part-time academic intervention tutor in reading and math for students in kindergarten through fifth grade.
As if this sundae needed whipped topping and a cherry, there's also this: Setting her schedule enabled Duno to publish "They Will Ask: A Story About Embracing Our Differences" in September 2022, an illustrated children's book about taking pride in an individual's culture, language, and origins.
And that might have been that, except for this: Duno was made for educational entrepreneurism. As her business blossomed and her referrals boomed, much to the delight of the creative right side of her brain, her left brain was swamped by disorganization. The time-honored tools of teaching, handwritten calendars, ledgers, notes, grade books, were no match for the demands of a freelance educator.
Here's Carlo Andreu, Duno's business partner and younger brother: "Lexa started to grow her business, but when she realized … to scale that business … she needed to streamline some of her business administration."
Which brings us to edTonomy, the app thousands of teachers who, like Lexa Duno, never imagined they needed until they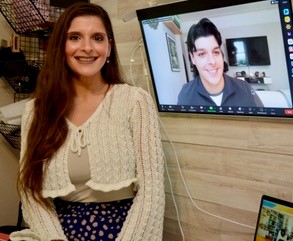 launched their own education shops, only to discover, when it came to digitally organizing a free agent's classroom, there was no app for that.
"We were seeing Facebook comments," Andreu said, "and comments all over the internet, really, from teachers who were going in the same direction as Lexa, or at least looking for a way to go in that direction."
And all were saying the same thing: I just want to teach the kids. Where's the program that will help me organize all the other moving parts — a sort of QuickBooks-meets-Outlook-meets-Microsoft Office-meets-Excel-meets-schoolhouse-Tinder, all swaddled in a Mister Rogers cardigan?
Like Lexa, Carlo favors independent entrepreneurship. So, while he was working for an investment firm in Tampa, he was also looking for an opportunity to launch a tech company. His sister's frustration, the tip of the teacher tsunami visible just above the horizon, was preparation meeting the moment.
"If what you're looking for doesn't exist," Andreu said, "you'll have to create it."
In development for more than a year, edTonomy 1.0 launched in May. Having listened closely, Andreu and the team's developer, Robin Fowler, digitized everything Duno said she needed, creating a classroom in an app.
Andreu describes it as "a professional tool to manage administrative tasks, support students and their families, and cater to the unique needs of a non-classroom teacher."
"We've put our heart into building a tool that'll empower educators to see just how valuable their skills, and they themselves, truly are," Duno said.
Among the edTonomy highlights:
The calendar function allows creation of group classes, individual lessons, a seminar, or personal time, as well as a billing schedule for each.
The discovery function — think Tinder for teachers — enables teachers to build a profile, including the subjects taught, and list upcoming events. Potential clients can browse edTonomy teachers and make contact via direct message.
Students can sign up digitally.
Once input, billing generates automatically.
The app is available by subscription, with monthly plans beginning at $39.
With the landscape of school choice changing almost daily, backed by game-changing momentum for education savings accounts, Duno said the time is ripe for education entrepreneurs, those who love to teach, but who increasingly find the traditional classroom stifling. Not that everybody "gets it" just yet.
"We have spoken with investors," Duno said. "They've said, 'But educators aren't entrepreneurs.' " Here, a meaningful eye roll. "This is something that's extremely frustrating for us. I'm an educator, and I learned to become an entrepreneur, and that's exactly what we're intending to do; we're intending to help teachers who are ready to leave the classroom."
Instead of finding another outlet for their desire to teach, however, these classroom refugees choose sidetracks that take them out of education altogether.
"We want to help teachers think that there's another option," Duno said. "You can continue to teach, especially now in a state like Florida" which recently adopted universal ESAs, allowing all K-12 students financial flexibility in their education choices.
With those options for students come opportunities for teachers, Duno said. "They will have the ability to work with a bunch of different kinds of students and to do it without having all that comes with working in the system."
And for those who don't want to reinvent the wheel, there's edTonomy to help them navigate the business side of their brave new career.