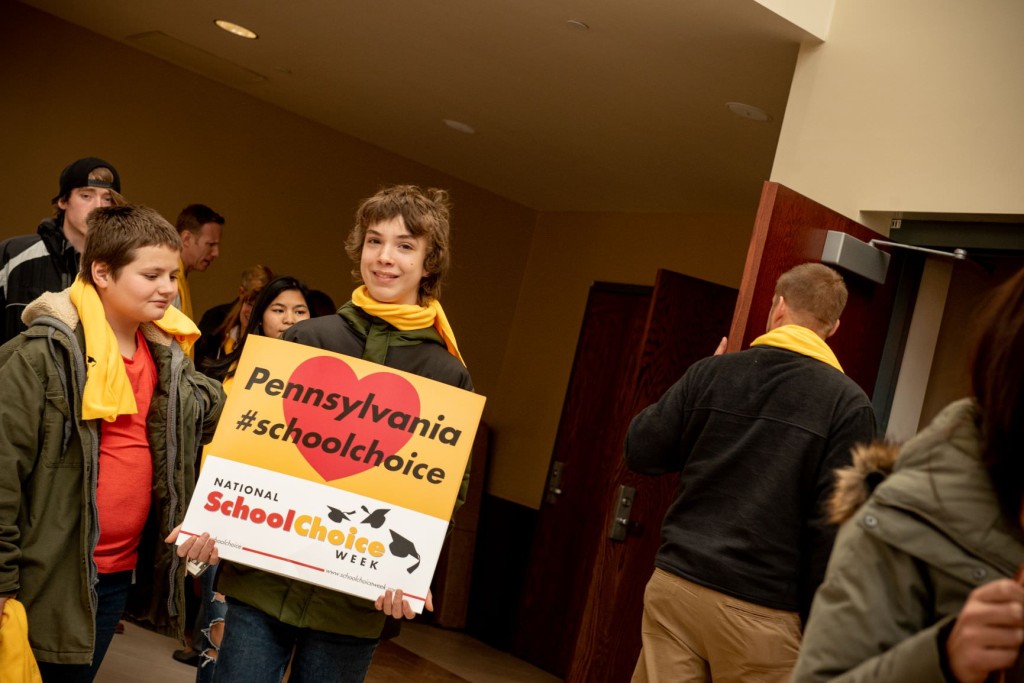 Pennsylvania Gov. Josh Shapiro—a popular swing-state Democrat—is trying his best to maintain his balance on an education choice tightrope.
On one side of the rope are supporters of a GOP-backed education choice bill that would establish a Lifeline Scholarship Program. The program would set up education savings accounts for families in areas with "low achieving" public schools to spend on private school tuition and fees. The Senate bill would allow the program to begin in the 2023-24 school year. The biggest effect would likely be felt in Philadelphia, where 100 schools meet the bill's definition of "low achieving."
On the other side are opponents, led by the state teachers union, who say such a program would drain money from public schools at a time when a judge ruled earlier this year that Pennsylvania's school funding system was unconstitutional and treats students in lower-income school districts unfairly.
In trying to stay balanced on the rope, Shapiro has backed the Lifeline Scholarship bill, while at the same time saying he would not agree to take money from public schools to pay for it.
"Let me just say, in general, I believe every child of God deserves a shot here in the Commonwealth of Pennsylvania, and one of the best ways we can guarantee their success is making sure every child has a quality education," he told Fox News on June 23. "I've been very clear that I'm open to that concept that you described a moment ago, but I've also made crystal clear that I won't take a dollar out of our public schools in order to achieve that."
In an era where education choice support comes more from the Republican ranks, the fact that Shapiro is a Democrat stands out.
He's taken political heat from the Pennsylvania State Education Association and the Philadelphia Federation of Teachers, groups that endorsed him during the 2022 election.
However, Shapiro recently received encouragement from former U.S. Sen. Joe Lieberman of Connecticut, who served as an independent but caucused with the Democrats and who has been an education choice champion. Lieberman serves on the board of the American Federation for Children. He called Shapiro's move "gutsy."
"I'd say to Governor Shapiro, he's doing something absolutely right, consistent with the traditionally Democratic (capital-D) values, and small-D democratic values, and he should stay the course because I think it is what the public wants," Lieberman told Commonwealth Foundation fellow Guy Ciarrocchi on Dave Hardy's "School Choice Report" podcast.
If the surveys are any indication, Liberman's assertion is correct.
A survey released in January by National School Choice Awareness Foundation, showed half of the 3,820 parents of school-aged children polled wanted more options for their children's education, and most parents wanted more information about school choice options. That included a majority of Black parents, part of the group that historically has tended to vote Democratic. According to the survey, 64.7 percent of parents, including 71.2 percent of Black parents and 75.7 percent of Hispanic parents said they wish they had more information about the schooling options available for their children.
An EdChoice survey of 1,300 parents of Black school-aged children showed strong support for parents' ability to choose the best educational fit for their children.
The survey provided a basic explanation of various choice options. Results showed 79 percent of respondents supporting traditional choice scholarships, 74 percent supporting charter schools and 78 percent supporting open enrollment. The survey results also showed that 78 percent support education savings accounts.
Neal McCluskey, the director of the Cato Institute's Center for Educational Freedom, said today's political climate has influenced African American families to take charge of their children's education.
"There's been this move for school choice for decades," said McCluskey. "They as a group tend to be likely to fare or to benefit, benefit from it more than other groups. But there's also something that we've seen in the last few years that's really come to a head which is sort of a feeling that public schools don't serve African American families well when it comes to teaching things that are specific to African American children."
Pennsylvania's proposed scholarship program may be funded in the state budget, which must be approved by tonight, or it may be funded separately.
Regardless of the funding, when it comes to education choice, it appears Shapiro, who voiced support for the idea during his campaign, and handily defeated his GOP opponent, is listening as he continues his highwire balancing act.
So far, it appears to be paying off. A recent Quinnipiac University survey found 57 percent of Pennsylvania voters approve of Shapiro's job performance. He received significantly better marks from voters than his state's two U.S. senators or President Joe Biden.