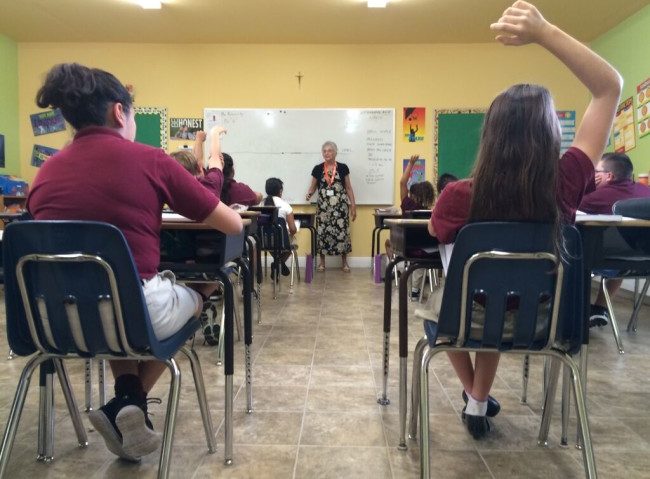 Jim McKenzie read the alarming reports in 2022 about the rise in the numbers of teachers fleeing the profession.
As headmaster at The Rock School in Gainesville, he saw storm clouds approaching, especially as Florida lawmakers raised starting teacher pay to $47,500 just two years earlier. Salaries at McKenzie's school run about 93% of what the local public schools pay, but the school offers a comprehensive benefits package that includes health insurance and a retirement program.  
"That made me panic," McKenzie said about the public school pay increase. 
For the first time in its nearly 50-year history, The Rock School created a recruitment video with testimonials from former public school teachers who found fulfillment at the faith-based, International Baccalaureate world school, which serves about 550 students in pre-kindergarten through 12th grade.  
"We made a video aimed at capturing teachers burned out in public school, saying, 'Hey, before you quit teaching, come work for us,'" McKenzie said. 
According to the National Center for Education Statistics, nearly half of public schools reported full- or part-time teaching vacancies. More than half of those vacancies resulted from resignations, followed by retirement. The top reasons teachers gave for leaving are low pay and stress.  
Low unemployment and recent bouts of inflation make recruitment tough for all sorts of jobs, and teaching is no exception. Florida Gov. Ron DeSantis has pushed for policies that raise starting salaries to make public-school teaching jobs more competitive.  
With lean budgets funded mainly by tuition and state scholarships that total less than public schools receive per student, private schools are doing their best to keep up.
But they are also competing in other ways. 
Across the Sunshine State, schools like The Rock tout perks, such as less bureaucracy, smaller classes and greater flexibility compared to public schools. 
For some potential teachers, it's an acceptable tradeoff.  
"I have found that teachers are drawn to our schools for a variety of reasons," said Jim Rigg, superintendent of schools for the Archdiocese of Miami, which supports 64 Catholic schools. Though the salary scale is a year or two behind nearby public schools, "many are seeking our specific religious mission. Teachers often cite the warm family-focused environment of our schools. Many teachers have told me that they are able to focus on teaching children without the effects of politics or an impeding bureaucracy." 
Rigg said the archdiocese, which has the most Catholic schools in the state, also has faced shortages like those in public schools, especially in critical areas of special education, math and science. 
"Principals are telling me that it is getting easier to find candidates this year, although we still have many unfilled vacancies," Rigg said. Schools are leveraging social media and job sites to attract applicants. 
This year, the diocese will host a community of teachers from the University of Notre Dame through the Alliance for Catholic Education. ACE's teaching fellowships are doing for Catholic schools what Teach For America has done for public schools, providing a new supply of young recruits while building a network of professionals committed to advancing Catholic education. 
"These teachers will live in a quasi-religious community while serving in hard-to-fill positions in nearby Catholic schools," Riggs said. "In short, we are doing our best to leverage creative solutions to ease the teacher shortage." 
On Florida's Gulf Coast, schools in the Diocese of Venice are in good shape for the upcoming school year, said the Rev. John Belmonte, who oversees 17 schools. He attributed that to a two-year compensation study that resulted in pay raises for teachers. He said increasing enrollments and greater use of state education choice scholarships helped make it possible for diocese schools to pay about 90% of the state's typical public-school salaries. 
All school leaders interviewed for this report said the scholarship expansions helped them invest in their workforce, which takes up the largest chunk of any company's budget. However, they also said they would like to see the scholarship amounts increase to help them continue to cover those costs and avoid tuition increases that price more families out of the market or forces administrators to lower quality standards for teaching applicants.
Some school districts are finding ways to boost salaries using money from voter-approved tax referendums and bigger budgets resulting from rising property values, which worries private school leaders working to maintain comparable pay. One of those considering a major increase is Broward County, where a board member recently proposed total compensation packages of $100,000 per year starting in 2025. The board this week narrowly rejected the idea after a majority of board members expressed concern about budget impact. However, they directed the superintendent to include teacher raises in next year's budget. 
"If a proposal of that magnitude goes through, private schools in this area will have an increasingly difficult time finding teachers," said Stacy Angier, who until this year served as principal at Abundant Life Christian Academy in Margate. 
Another major barrier to teacher recruitment is finding affordable places for new hires to live. One Arizona school district recently broke ground on 10 studio apartments using federal money to help make rent less costly for teachers. Another district plans to convert a vacant school building into apartments.
Daniel Aqua, director of special projects for the Teach Coalition, which advocates for Jewish schools in Florida and across the nation, is looking at ways to remove housing as a barrier for teachers that could include building homes under the Live Local Act, a priority of Senate President Kathleen Passidomo to create more affordable housing.
Chris Pastura, who oversees 42 schools as superintendent of the Catholic Diocese of St. Petersburg, said schools need to keep salary and benefit packages competitive even though pay isn't the main motivator for teachers. 
"If pay were the most important thing, people wouldn't be choosing teaching in the first place," he said. "But the fact that people have to pay their bills is an important consideration." 
This post was updated to reflect the latest actions by the Broward County School Board.