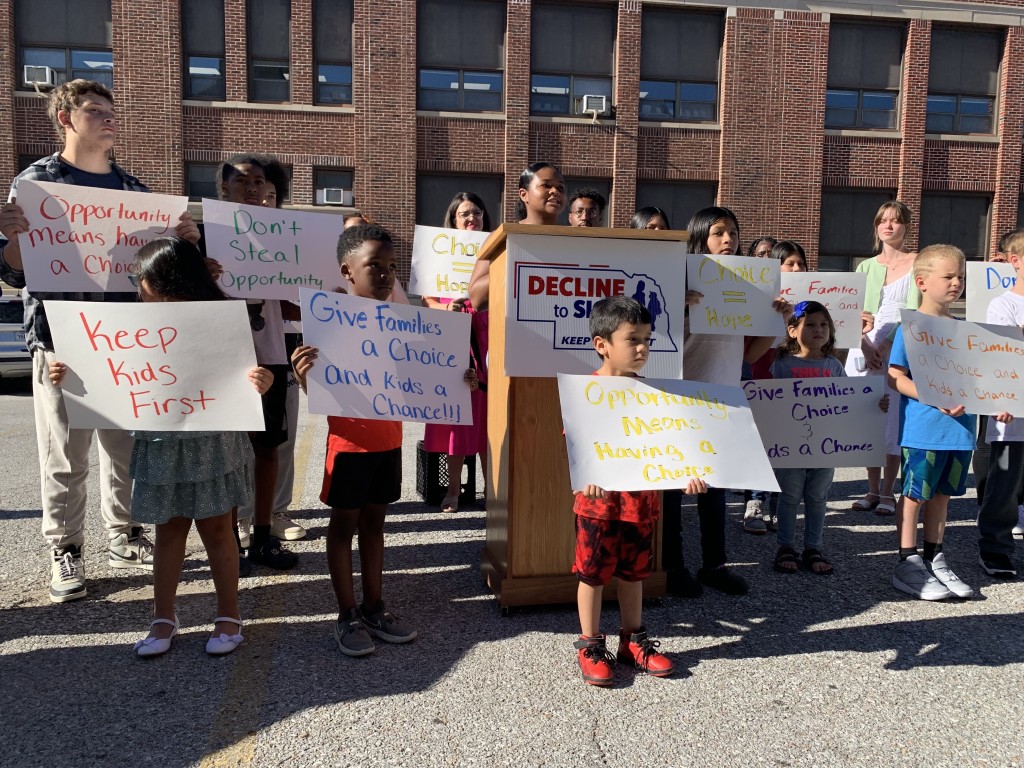 Sherlean Roberts felt a surge of adrenaline as she noticed the uniforms.
At a summer jazz concert at a city park in Omaha, Nebraska, she first noticed a security guard staring at her and fellow volunteer, Myles Slade-Bowers. The two Black college students walked to another area to diffuse the situation. Less than a minute later, several police officers stood closely behind them.
"As a Black girl, I don't want to be in any type of situation with the potential to break off and someone has to explain this to my family" Roberts said.
Fortunately, the situation didn't escalate. The officers didn't approach them, and the students chose to leave the event.
But the scene illustrates the flaring tensions around the Cornhusker State's first school choice law, and the frantic petition drive attempting to stop it from taking effect.
Teachers union supporters and paid petition gatherers, operating under the banner of Support Our Schools, have encountered an unexpected form of resistance: Young people like Roberts and Slade-Bowers, who have personally benefitted from education options, showing up at events like the Omaha jazz concert, and urging voters not to sign.
Many of these young volunteers have put their summer plans on hold to travel from out of state to join what they see as a fight to ensure other students benefit from the kinds of opportunities that helped change their lives.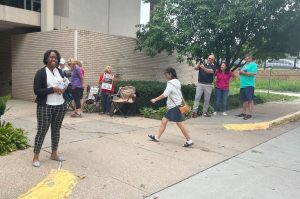 They have faced harassment and had personal information posted on social media. They've been tailed by law enforcement. But they aren't backing down.
"I am angry to see how far the education establishment is willing to go to stop other students from having the chance I had," said Jayleesha Cooper, a 19-year-old junior at the University of Chicago who is originally from Nebraska. She was able to attend a Catholic school through scholarships from private donors. She credits school choice with helping her to become the first in her family to avoid teen pregnancy and attend college.
"As a student, I know that stepping into a public policy fight is scary enough," she said. "To see my fellow students of color face intimidation, harassment, and calls to law enforcement lying about their behavior is tremendously disappointing."
Slade-Bowers' devotion to the cause prompted him to abandon plans to become a doctor and instead pursue a career in public policy. He took a year off at High Point University in North Carolina to assist with policy research at the University of Arkansas. He says the most fulfilling thing is "to look a child in the eye and say, 'I'm fighting for you.'"
About five years ago, the success stories of school choice alumni caught the attention of the American Federation for Children and other national advocacy groups like the National Alliance for Public Charter Schools. Leaders of these national groups see school choice beneficiaries as future torchbearers for the modern movement, which began more than three decades ago.
Since the American Federation for Children began its Future Leaders Fellowship program in 2019, members have impressed lawmakers with their knowledge of policy and inspired them with their stories of how school choice changed their lives. They also write letters to editor and speak at rallies.
In Nebraska, which until this year was the last U.S. state without a charter school or private scholarship law, the new leaders are taking to the front lines. Opponents are pushing to gather approximately 61,000 signatures by Aug. 30 to block the program and force a statewide referendum on the future of the law during next year's general election.
"I think that even if this measure ends up on the ballot, our fellows have done an amazing job at countering misinformation and that it will have an impact on Nebraska voters," said Ashley Elliott, a young school choice alum from Florida and a member of the inaugural 2019 cohort who now coordinates the fellowship program. "They have been very effective, and I can honestly say that in my time here they are the most effective grassroots advocates I have seen."
The prospect of a new generation of alumni who personally benefitted from education options assuming the leadership of the national movement warms the heart of Derrell Bradford, an education choice pioneer who attended high school on a privately funded scholarship before state-funded scholarships were widely available and now is president of the nationwide advocacy group 50CAN.
"It's exciting to know not only that a generation of kids that don't have hangups of older folks and who have had the chance to experience a world where school choice is increasingly becoming the norm are taking the reins now and fighting for themselves and their peers," Bradford said.