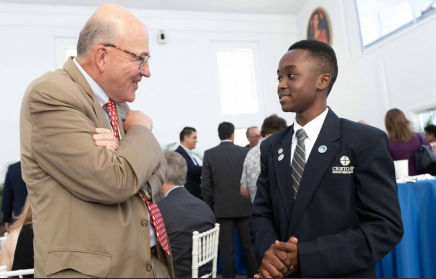 On Tuesday, a new report by Step Up For Students will document the growth and increasing diversity of Florida's Catholic schools.
The report is primarily based on data from the National Catholic Education Association, the Florida Catholic Conference, and Step Up For Students, the nonprofit that administers Florida's school choice and education choice scholarship programs (and hosts this blog).
Among other key findings, it will show:
Florida Catholic Schools are growing at a time when Catholic schools in other states are shrinking. Between 2013 and 2023, nine of the top 10 states for Catholic school enrollment saw declines. Florida was the lone exception.
Florida Catholic schools are becoming more diverse. They now enroll 65 percent children of color, matching the proportion in the state's public schools. The number of Catholic school students using scholarships specifically for students with disabilities has increased 162.9 percent over the past decade.
Florida Catholic schools are creating new options to respond to community needs and strengthening their longstanding commitment to serving students of all backgrounds.
Education choice scholarship programs help make this growth, diversity and innovation possible. The number of students using scholarships to attend Florida Catholic schools tripled, from 13,911 to 41,048, in the past decade. That's before this year's HB 1 allowed the scholarship programs to scale up and become available to every student who wants one.
Interested in learning more or getting an advance look at the full report? Contact Ron Matus, Step Up's director of research and special projects: rmatus [at] sufs.org.