Summer Fun?
A new evaluation finds summer learning can boost student results in math, but not English, and not enough to address pandemic learning loss for many children. New York City's popular summer school programs struggle with transportation disruptions and what feels to some families like a lack of fun. Chalkbeat shares a parent's view:
Tajh Sutton, a Brooklyn parent, said she understood the need for additional academic support in the summer but wished her daughter's experience had involved more project-based learning and exploratory field trips or activities.

"I had transparent conversations with my daughter about why they had added so much academics in the summer, but it didn't change the fact that she just wasn't having a good time," she said. "I know I can't speak for everyone, but my daughter and her peers certainly didn't respond well to it."
Why it matters: Summer offers a critical opportunity to address pandemic learning loss. But students and families don't want summer programs that consist of all academic learning, all the time. Families need more options, better information, and providers who have incentives to give them what they want.
Mattering matters
A Washington Post essay on raising successful kids:
[W]hat research suggests is that lasting self-worth cannot come from approval based solely on external rewards, such as trophies, college acceptance letters and fancy job offers. Rather, an understanding of one's inherent value comes from knowing one's place in a community — from the sense that others value you and that you add value to others. Researchers call this feeling "mattering": Only by building interdependence can kids gain social proof that they do indeed matter.
Why it matters: Our education system is not designed to deliver to young people social proof that they matter. Because of the ways it separates students and their learning experiences from meaningful relationships with the real world, it's almost designed to inhibit this at every turn.
Need to Know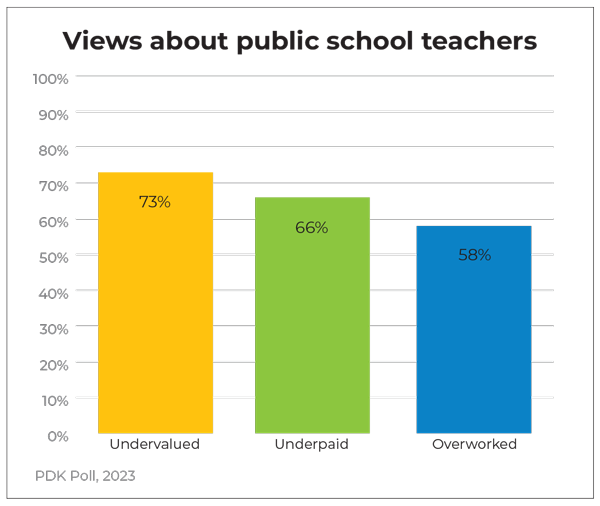 Teacher shortages appear to be intensifying nationwide. According to Paul Bruno of the College of Education at the University of Illinois Urbana-Champaign, all the bad news might reinforce the trend: "I'm not sure that I would look at headlines about supposedly catastrophic school staffing shortages, and think that schools are places I'd want to work."
Related: a new survey shows growing majorities of Americans feel teachers are overworked, underpaid, and undervalued.
A new working paper finds attending a school with a low accountability rating (like a failing grade) prompted school districts to invest more resources in improving those schools, and that, in turn, led to improved later-in-life outcomes for students.
Class-size reduction appears to benefit the highest-need schools in New York City the least.