Other countries may be ahead of the U.S. in exploring the education implications of AI.
The push other countries are making toward radically customized education is also one the U.S. should take seriously. Too many education policy people dismiss personalized learning as a remnant of a largely failed effort in the early 2000s, but other countries see that high-quality curriculum can be leveraged by AI in revolutionary ways and can be tailored in real time to a student's particular level.
Why it matters: American schools have historically tended to domesticate new technologies, incorporating them into existing processes and routines rather than use them to fundamentally improve teaching and learning. It's an open question whether this time will be any different.
Key Findings
Funding students, not systems (or at least funding systems based on the students they serve, rather than pre-defined staffing requirements) may lead to more efficient resource allocation in school districts.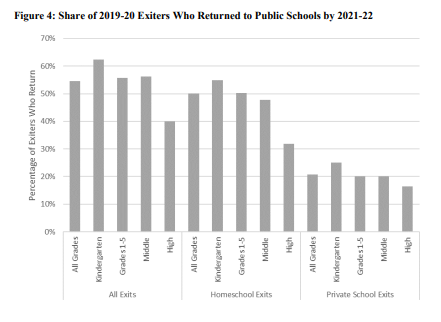 A new working paper finds 21% of Michigan public school students who left public schools for private schools in 2020 had returned by 2021, compared to 50% of homeschoolers. Those who stayed tended to be more affluent than those who returned to public schools. It would be interesting to see how these data look different in a state that subsidizes school choice for lower-income families.
Information people retrieve on Google is less likely to "stick" in their minds than information gained through other means.
Numbers to Know
6.5 million:  Number of students who were chronically absent during the 2021-22 school year, according to newly released data.
44% – 22%: Share of charter school teachers and district school teachers, respectively, who report feeling hopeful.
37% – 17%: Who report feeling appreciated or valued.
31% – 12%: Who report feeling supported.